Find the best places to go Canoeing, where to stay, who the local experts are and where to buy the best equipment!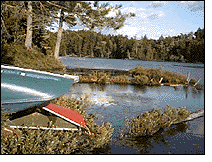 The Adirondack Park and adjacent areas contain thousands of lakes and ponds and hundreds of miles of rivers and streams, including the mountain lake that is the headwaters of the Hudson River. It can be considered one of the nations most valuable resources. Below are some of the more popular routes, though many of the best experiences can still be found by exploration.
We invite you to browse through our Online Guide to Canoeing - Maps of these Trails will soon follow thanks to The Department of Environmental Conservation (D.E.C.)
Click here for a map of the Adirondack Park
and surrounding areas!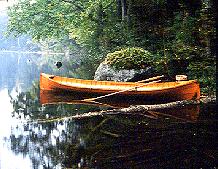 We invite you to visit our Adirondack
photo gallery by Frank Houck

Adirondack Canoe Guides & Retreats


Bear Cub Adventures
30 Bear Cub Road, Lake Placid, NY 12946 - (518) 523-4339
Offering Outdoor Guided Adventures and Skills Instruction; Hiking Trips, Wilderness Canoe Trips, Canoe & Kayak Instruction, Family Fishing Trips, and so much more.

PACKBASKET ADVENTURES
P.O. Box 136 12 South Shore Rd. Ext. Wanakena, NY 13695 Ph/Fax: (315) 848-3488
email:info@packbasketadventures.com
The base for Packbasket Adventures is our lodge, located on the fabled Oswegatchie River, famous for its scenic beauty, remote wildness and fine sport. The river flows through Wanakena into Cranberry Lake, which has 40 of its 55 miles of shoreline State protected and waiting to be explored. Our newly constructed lodge consists of 4 bedrooms with private baths. Each room is finely appointed in the lodge style, making for a cozy return at the end of the day's adventure.

St. Regis Canoe Outfitters - Floodwood Rd. at Long Pond Portage P.O. Box 318, Lake Clear, NY 12945 518-891-1838 Fax: 518-891-6405 Toll-Free: 888-SR KAYAK ( 888-775-2925 )
Instructions ,Programs, Outfitting Services, Canoe & Kayak Rentals, Camping Gear Rentals, Transportation. All of your outfitting needs in the Adirondacks.





Adirondack Sport Shop
"Home to the Ausable Wullf", Wilmington, NY - (518) 359-2174
Fran Betters has been known by sportsmen for years as the definitive expert on fishing and fly-fishing in the Adirondacks and author of many indispensable books! He offers fly fishing and casting instructions, stream orientations and an open invitation to all who fish to attend his FREE Barbeques and flycasting clinics throughout the summer!


Blue Mountain Outfitters Blue Mountain Lake Open 7 days from 9 AM until 6 PM. Blue Mountain Lake, 144 Main Street, (518) 352-7306 We feature many crafts from hand pounded handmade black ash pack baskets, cloth, metals, jewelry, to balsam and clay. Blue Mountain Outfitters is a full service fly fishing outfitter offering proven names Fly fishing instructions and guiding are available upon request.


Elk Lake Lodge
Elk Lake Road, North Hudson, NY
Phone: 518-532-7616
Email: info@elklakelodge.com
Described by National Geographic as "the jewel of the Adirondacks," Elk Lake is a 12,000-acre wilderness resort in the heart of the High Peaks. 40 miles of private trails, two lakes offering canoeing, swimming and fishing for trout or landlocked salmon. Turn-of-the-century lodge and private cottages. Note: Rates are per person, per night, Modified American Plan with Dinner and Breakfast included.



Tahawus Limited
P.O. Box 424, Lake Placid, NY 12946 - (518) 891-4334
Tahawus Guide Services offers traditional outdoor adventures for people of all ages, regardless of ability level or physical condition. Based on the legendary guide services of the late 1800's, the guides of Tahawus are experienced outdoor professionals who will delight you with the natural history and lore of the Adirondacks. Offering Fly Fishing, Canoe and Fishing trips, Mountaineering, Ski Tours, and so much more.




Campsites for Canoers

The Adirondack park offers a range of campsites as follows:

1. Roadside Public Campgrounds - multiple campsites, drive-in convenience, fee charged, showers, usually some hook-ups and many have lakefront sites. Examples: Fish Creek Pond, Rollins Pond, Buck Pond, Meacham Lake.

2. Wild Forest Campgrounds - multiple campsites, boat access only, fee charged, some have amenities like an outhouse, picnic table or a fireplace with a grill. Examples: Lower and Middle Saranac Lakes.

3. Designated Campsites - no fee charged - may or may not have any amenities. Examples: St. Regis Canoe Area and Fish Creek Ponds Area.

4. Established Campsites - no fee charged, occasionally an outhouse or picnic table, fireplace may be an informal ring of stones. These fire rings should be used for open fires. Please do not remove them. Examples: Raquette River, Paul Smiths Area and Lake Kushaqua Area, Tupper Lake.

Camping Permits for Canoers

Camping permits are required for: (1) any party of ten or more, or (2) any party remaining in the same location for four or more nights. You are responsible for obtaining your own camping permit before your arrival from the State Forest Ranger for the district in which you will enter state lands. New York State now requires that anyone bringing --paying clients-- onto state land must have a Guide's License. Non-profit organizations are exempt.

In accordance with state laws, (1) properly dispose of human wastes (burial at least 8- down and 150' away from water or camp), (2) help maintain water quality by not washing directly in the lake or stream, (3) cut only wood that is both dead and down and (4) carry out all you carry in. Boiling or treating drinking water is recommended.

Forest Rangers Along Adirondack Canoe Routes

Area

Max Group Size

Ranger & Telephone

St. Regis Area
Upper Saranac Lake

12

Joseph Rupp
RR 1, Box 210
Vermontville, NY 12989
518-891-0255

Middle & Lower Saranac Lake
Raquette River
Tupper Lake

CAMPGROUND
12
12

Clyde Black
7 Isabelle Avenue
Tupper Lake, NY 12986
518-359-2666

Bog River
Low's Lake

9

Joseph Kennedy
10 Deer Street
Tupper Lake, NY 12986
518-359-7030

Saranac River
Lake Kushaqua

12

Scott Murphy
P.O. Box 47,
Gabriels, NY 12939
518-891-5392

Oswegatchie River
Cranberry Lake

9
12

Bernie Siskavich
P.O. Box 104
Wanakena, NY 13695
315-848-3370

Santa Clara Tract
Champion Lands

12

Jeff Balermo
P.O. Box 58,
Lake Clear, NY 12945
518-891-0477

Long Lake
Indian Lake & Inlet

12

Jim Waters, NYS-DEC
Box 246
Indian Lake, NY 12842
518-624-6686

Whitney Area
Little Tupper & Lake Lila

8

Bob Zurek
HC 1,Box 2A
Long Lake, NY 12847
518-624-6686

Blue Mountain Lake

12

Greg George
Rt. 28,
Blue Mtn. Lake, NY 12812
518-352-7676

Raquette Lake
Forked Lake & Inlet

12

Mike Bodnar
HC 82, Box 501,
Raquette Lake, NY 13436
315-354-4611

Old Forge
Eagle Bay

12

Douglas Riedman
P.O. Box 131,
Old Forge, NY 13420
315-369-3463

Stillwater Reservoir
Beaver River

12

John Scanlon
Star Route, Box 239,
Lowville, NY 13367
315-376-8030




Calendar of Events |  Vacation Rentals |  Real Estate |  Lodging & Accomodations
Dining |  Summer Sports |  Winter Sports |  Arts & Crafts |  Attractions
Shopping |  Adirondack Kids |  Adirondack Lifestyles |  Education
Business Profiles |  Community Links |  Business Directory |  Classifieds
Adirondack History |  Bulletin Board |  Chat Room |  Guestbook Comments |  Return Home
BACK TO THE TOP
New York State & Vermont
Travel Guide Network
We invite you to visit one of the largest and most comprehensive award winning travel networks in New York State
& neighboring Vermont .
Choose your visitor guide by clicking on any one of the links below!
Adirondacks.com | AdirondackRealEstate.com | AdirondackRentals.com |GlensFalls.com | LakePlacidNY.com | SaranacLakeNewYork.com | Saratoga-NewYork.com | Upstate-NewYork.com | LakeChamplainValley.com | Burlington-Vermont.com | ThousandIslandsNewYork.com | MaloneNY.com | NorthCreekNY.com | WestportNewYork.com | CliftonParkNewYork.com |
Albany-New-York.com | Troy-NewYork.com | Utica-NewYork.com | Rome-NewYork.com | WarrensburgNewYork.com | Potsdam-NewYork.com | AdirondackHighPeaks.com | Canton-NewYork.com | Massena-NewYork.com | Plattsburgh-NewYork.com | LakePlacid-NewYork.com | GlensFalls.net | SchroonLakeNewYork.com | KeeneNY.com | KeeneValleyNY.com | ChestertownNY.com | GlensFallsNY.com | TiconderogaNewYork.com | TheChamplainValley.com | Champlain-Valley.com | ChamplainValleyRegion.com |
ChamplainValley.net | SaratogaSpringsRegion.com | Watertown-NewYork.com |
SaranacLakeNY.com | HighPeaksWilderness.com | VisitUpStateNewYork.com | VermontTravelGuides.com | Burlington-Vermont.com | StAlbans-Vermont.com | Rutland-Vermont.com | Middlebury-Vermont.com | Montpelier-Vermont.com |
Bennington-Vermont.com | Brattleboro-Vermont.com | NewYorkSkiing.com |
New YorkHiking.com | AdirondackHiking.com | AdirondackFishing.com |
AdirondackCamping.com | AdirondackSkiing.com | LakePlacidSports.com | LakePlacidSkiing.com | SaratogaSpringsRegion.com | SaratogaInns.com
| SaratogaHotels.com | SaratogaAttractions.com | SaratogaSpringsDining.com |
SaratogaSpringsLodging.com | SaratogaSpringsRestaurants.com |
SaratogaDirectory.Com | LakePlacidNY.com | LakePlacidHotels.com |
LakePlacidShopping.com | LakePlacidRestaurants.com | LakePlacidInns.com |
LakePlacidDining.com | LakePlacidResorts.com | LakePlacidSports.com | LakePlacidSkiing.com | LakePlacidHockey.com | LakePlacidSchools.com | OldForge-NewYork.com | AdirondackRestaurants.com
AdirondackWeddings.com | AdirondackCamping.com | AdirondackFishing.com |
AdirondackShopping.com | AdirondackLodging.com | AdirondackHotels.com
| AdirondackDining.com | AdirondackSkiing.com | AdirondackWeather.com
| AdirondackCrafts.com | VillageofLakeGeorge.com | DiscoverLakeGeorge.com |
Lake-George-NewYork.com | LakeGeorgeClassifieds


www.AdirondacksOnline.com
43 Broadway
Saranac Lake, New York 12983
Phone: 518-891-3745 Fax: 518-891-3768
E-Mail: AdirondacksOnline.com
webmaster: Susan Moore
This website is owned and operated by
adirondacksonline.com internet publishing group.
For advertising and editorial content,
please contact Rob Grant;
adirondacksonline.com reserves the right to reject,
modify or cancel any advertising at its sole discretion.
© 2005 AdirondacksOnline.com - all rights reserved
canoe, canoers, new york canoeing, kayak, kayaking, kayakers, NY CANOE,
ny canoeing, canoeing trails, canoeing routes, Canoe, canoe, canoers, new york canoeing, kayak, kayaking,
kayakers, NY CANOE, ny canoeing, canoeing trails, canoeing routes, Canoe,
canoe, canoers, new york canoeing, kayak, kayaking, kayakers, NY CANOE, ny canoeing, canoeing trails,
canoeing routes, Canoe, canoe, canoers, new york

noeing, kayak, kayaking, kayakers,
NY CANOE, ny canoeing, canoeing trails, canoeing routes, Canoe, canoe, canoers,
new york canoeing, kayak, kayaking, kayakers, NY CANOE, ny canoeing, canoeing trails,
canoeing routes, Canoe, canoe, canoers, new york canoeing, kayak, kayaking, kayakers,
NY CANOE, ny canoeing, canoeing trails, canoeing routes, Canoe, canoe, canoers,
new york canoeing, kayak, kayaking, kayakers, NY CANOE, ny canoeing, canoeing trails, canoeing
routes, Canoe, canoe, canoers, new york canoeing, kayak, kayaking, kayakers, NY CANOE, ny
canoeing, canoeing trails, canoeing routes, Canoe, canoe, canoers, new york canoeing,
kayak, kayaking, kayakers, NY CANOE, ny canoeing, canoeing trails, canoeing routes, Canoe,
canoe, canoers, new york canoeing, kayak, kayaking, kayakers, NY CANOE,
ny canoeing, canoeing trails, canoeing routes, Canoe, canoe, canoers, new york canoeing, kayak,
kayaking, kayakers, NY CANOE, ny canoeing, canoeing trails, canoeing routes, Canoe, canoe,
canoers, new york canoeing, kayak, kayaking, kayakers, NY CANOE, ny canoeing,
canoeing trails, canoeing routes, Canoe, canoe, canoers, new york canoeing, kayak, kayaking,
kayakers, NY CANOE, ny canoeing, canoeing trails, canoeing routes, Canoe, canoe, canoers,
new york canoeing, kayak, kayaking, kayakers, NY CANOE, ny canoeing, canoeing trails,
canoeing routes, Canoe, canoe, canoers, new york canoeing, kayak, kayaking, kayakers,
NY CANOE, ny canoeing, canoeing trails, canoeing routes, Canoe, adirondacks, new york guide,
adirondack mountains, Lake Placid, NY, lake placid resources, restaurants, real estate,
lodgings, accomodations, canoeing, new york fishing, NY hiking, skiing, biking, ski, snow,
attractions, events, New York Businesses