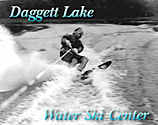 Daggett Lake Water Ski Center
660 Glen Athol Road, Warrensburg, NY 12885 Call for an appointment 518-623-2198.
Adirondack Mountain water skiing "Warmest lake in the area"
Ski ride $35 Lessons $95 per hour or $50 per half-hour. Beginner, intermediate, or advanced level. Slalom course, Barefoot, Wakeboarding, Tubing .All equipment provided U.S.A. Water Ski-affiliated club rated instructors and boat drivers In-boat, pylon-mounted camcorder! Videotape your ski lesson, then take a copy home with you.




43 Broadway
Saranac Lake, New York 12983
Phone: 518-891-3745 Fax: 518-891-3768
E-Mail: AdirondacksOnline.com
This website is owned and operated by
adirondacksonline.com internet publishing group.
For advertising and editorial content,
please contact Rob Grant;
adirondacks.com reserves the right to reject,
modify or cancel any advertising at its sole discretion.
© AdirondacksOnline.com - all rights reserved
adirondacks, new york guide, adirondack mountains, Lake Placid, NY, lake placid resources, restaurants, real estate, lodgings, accomodations, canoeing, new york fishing, NY hiking, skiing, biking, ski, snow, attractions, events, New York Businesses