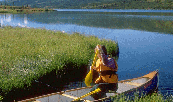 Each year, when the snow finally melts from the mountaintops, a magical transformation occurs in Upstate New York and the Lake Champlain Valley Region with the arrival of summer! Suddenly, Alpine ski trails give way to rugged mountain bike paths. Frozen lakes and rivers dissolve into miles of exciting canoe and kayak waterways. And backcountry ski trails turn into beautiful day hikes!
With over 1500 lakes and ponds, 46 major peaks, and hundreds of miles of hiking and bike trails, the Adirondack Park is, quite literally, a 6 million acre playground and sports paradise!

We invite you to browse our exciting selection of summer sports featuring everything from camping and rock climbing to canoeing and flyfishing.