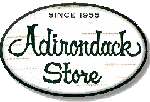 ADIRONDACK STORE
52 Broadway, Saranac Lake, New York 12983 Phone: 518-891-3745
The Adirondacks evoke the essence of the North Woods: deep forest colors, birch bark textures. the scent of pine and cool, fresh air. Our Adirondack Collection embodies this feeling with gifts, home accessories and rustic furniture that are a blending of rustic elegance, whimsical function and North Country tradition. All items in our Adirondack Collection are from the Adirondack Store
THE ADIRONDACK COUNTRY STORE
- 252 North Main Street, Northville, NY, USA 12134, 1-800-LOON-ADK
One of the region's most unique and interesting shops! From the foothills of the Adirondack Mountains in beautiful upstate New York, we offer quality items, many created by skilled craftsmen from the surrounding region. Enjoy our collection of treasures in 7 large rooms packed with unique gifts and furnishings. Browsers are always welcome -- stop in, slow down, enjoy the music and relax. Leave the fast pace outside and prepare to spend some time with us. We hope to see you soon.

Robert Stump Studios
Hand Painted Adirondack Gifts
Click Here

Click here to preview the stunning works from Adirondack photographer Carl Heilman
.