Welcome to the largest online fishing guide in Upstate New York!
Get the inside scoop on the best places to go fishing, where to stay,
who the local experts are and where to buy the best equipment!

Landlock Salmon Fishing Tactics
Visit the New York State DEC Fishing website:

http://www.dec.state.ny.us/website/dfwmr/recfshl4.html


Products for the Outdoors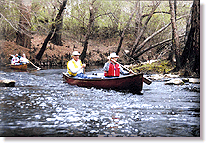 St. Regis Canoe Outfitters - Floodwood Rd. at Long Pond Portage P.O. Box 318, Lake Clear, NY 12945 518-891-1838 Fax: 518-891-6405 Toll-Free: 888-SR KAYAK ( 888-775-2925 )
Instructions ,Programs, Outfitting Services, Canoe & Kayak Rentals, Camping Gear Rentals, Transportation. All of your outfitting needs in the Adirondacks.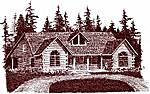 PACKBASKET ADVENTURES
P.O. Box 136 12 South Shore Rd. Ext. Wanakena, NY 13695 Ph/Fax: (315) 848-3488
email:info@packbasketadventures.com
The base for Packbasket Adventures is our lodge, located on the fabled Oswegatchie River, famous for its scenic beauty, remote wildness and fine sport. The river flows through Wanakena into Cranberry Lake, which has 40 of its 55 miles of shoreline State protected and waiting to be explored. Our newly constructed lodge consists of 4 bedrooms with private baths. Each room is finely appointed in the lodge style, making for a cozy return at the end of the day's adventure.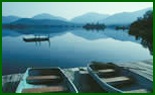 Elk Lake Lodge
Elk Lake Road, North Hudson, NY
Phone:518-532-7616
Email: info@elklakelodge.com
Described by National Geographic as "the jewel of the Adirondacks," Elk Lake is a 12,000-acre wilderness resort in the heart of the High Peaks. 40 miles of private trails, two lakes offering canoeing, swimming and fishing for trout or landlocked salmon. Turn-of-the-century lodge and private cottages. Note: Rates are per person, per night, Modified American Plan with Dinner and Breakfast included.





River Ranch Cabins
HC-2 Box 14 Wilmington, NY 12997
Phone:(518) 946-7978
The River Ranch Cabins are seasonal cabins open from May to October in the heart of the Adirondacks. Perfect spot for Ausable River fisherman. Our 2 cabin full capacity provides the ideal, peaceful, sun dappled wooded setting for a quiet getaway or for a private, family and small group reunions.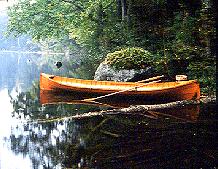 FISH THE LAKES
Lake Colby
Kokanne Salmon, Brown Trout, Rainbow Trout

Chateaugay Lake
Rainbow Trout, Landlocked Salmon, Black Bass, Northern Pike

Saranac Lake
Black Bass, Northern Pike, Panfish

Meacham Lake
Black Bass, Northern Pike, Panfish, Splake

Tupper Lake
Black Bass, Walleye, Lake Trout, Landlocked Salmon, Northern Pike, Panfish

Union Falls
Walleye, Black Bass, Northern Pike, Panfish

Looking for a place to stay? Why not check out our comprehensive lodging section by clicking Here

Calendar of Events |  Vacation Rentals |  Real Estate |  Lodging & Accomodations
Dining |  Summer Sports |  Winter Sports |  Arts & Crafts |  Attractions |  Shopping
Adirondack Kids |  Adirondack Lifestyles |  Business Profiles |  Business Directory |  Classifieds
Meet Our Sponsors |  Adirondack History |  Chat Room |  Return Home
BACK TO THE TOP
New York State & Vermont
Travel Guide Network
We invite you to visit one of the largest and most comprehensive award winning travel networks in New York State
& neighboring Vermont .
Choose your visitor guide by clicking on any one of the links below!
Adirondacks.com | AdirondackRealEstate.com | AdirondackRentals.com |GlensFalls.com | LakePlacidNY.com | SaranacLakeNewYork.com | Saratoga-NewYork.com | Upstate-NewYork.com | LakeChamplainValley.com | Burlington-Vermont.com | ThousandIslandsNewYork.com | MaloneNY.com | NorthCreekNY.com | WestportNewYork.com | CliftonParkNewYork.com |
Albany-New-York.com | Troy-NewYork.com | Utica-NewYork.com | Rome-NewYork.com | WarrensburgNewYork.com | Potsdam-NewYork.com | AdirondackHighPeaks.com | Canton-NewYork.com | Massena-NewYork.com | Plattsburgh-NewYork.com | LakePlacid-NewYork.com | GlensFalls.net | SchroonLakeNewYork.com | KeeneNY.com | KeeneValleyNY.com | ChestertownNY.com | GlensFallsNY.com | TiconderogaNewYork.com | TheChamplainValley.com | Champlain-Valley.com | ChamplainValleyRegion.com |
ChamplainValley.net | SaratogaSpringsRegion.com | Watertown-NewYork.com |
SaranacLakeNY.com | HighPeaksWilderness.com | VisitUpStateNewYork.com | VermontTravelGuides.com | Burlington-Vermont.com | StAlbans-Vermont.com | Rutland-Vermont.com | Middlebury-Vermont.com | Montpelier-Vermont.com |
Bennington-Vermont.com | Brattleboro-Vermont.com | NewYorkSkiing.com |
New YorkHiking.com | AdirondackHiking.com | AdirondackFishing.com |
AdirondackCamping.com | AdirondackSkiing.com | LakePlacidSports.com | LakePlacidSkiing.com | SaratogaSpringsRegion.com | SaratogaInns.com
| SaratogaHotels.com | SaratogaAttractions.com | SaratogaSpringsDining.com |
SaratogaSpringsLodging.com | SaratogaSpringsRestaurants.com |
SaratogaDirectory.Com | LakePlacidNY.com | LakePlacidHotels.com |
LakePlacidShopping.com | LakePlacidRestaurants.com | LakePlacidInns.com |
LakePlacidDining.com | LakePlacidResorts.com | LakePlacidSports.com | LakePlacidSkiing.com | LakePlacidHockey.com | LakePlacidSchools.com | OldForge-NewYork.com | AdirondackRestaurants.com
AdirondackWeddings.com | AdirondackCamping.com | AdirondackFishing.com |
AdirondackShopping.com | AdirondackLodging.com | AdirondackHotels.com
| AdirondackDining.com | AdirondackSkiing.com | AdirondackWeather.com
| AdirondackCrafts.com | VillageofLakeGeorge.com | DiscoverLakeGeorge.com |
Lake-George-NewYork.com | LakeGeorgeClassifieds


www.AdirondacksOnline.com

43 Broadway
Saranac Lake, New York 12983
Phone: 518-891-3745 Fax: 518-891-3768
E-Mail: AdirondacksOnline.com
webmaster: Susan Moore
This website is owned and operated by
adirondacksonline.com internet publishing group.
For advertising and editorial content,
please contact Rob Grant;
adirondacksonline.com reserves the right to reject,
modify or cancel any advertising at its sole discretion.
© 2005 AdirondacksOnline.com - all rights reserved
adirondacks, new york guide, adirondack mountains, Lake Placid, NY, Fishing, Trout, Fly Fishing, lake placid resources, restaurants, real estate, lodgings, accomodations, canoeing, new york fishing, NY hiking, skiing, biking, ski, snow, attractions, events, New York Businesses
adirondacks, new york guide, adirondack mountains, Lake Placid, NY, lake placid
resources, restaurants, real estate, waterfront properties, vacation rentals, Saranac lake,
NY, Lake Placid, Tupper Lake, Old Forge, Hamilton, Essex County, Franklin County,
lodgings, accomodations, canoeing, hiking, skiing, biking, ski, snow, fall foliage, fly fishing,
trout, bass, hunting, dining, Fly Fishing, New York, dog sledding, snowmobiling, snowshoeing, Cross Country Skiing, Telemarking, Mountaineering, 46 peaks, White Mountains,
High Peak Mountains, Kids, children, family, families, travel, tourism, Motels, Bed and Break fast,
Country Inns, Adirondack Guides, attractions, events, New York Businesses