Lodging in the Lake Champlain Valley - High Peaks - New York / Vermont Region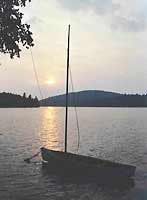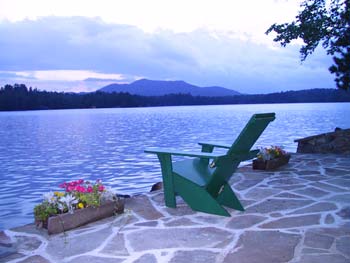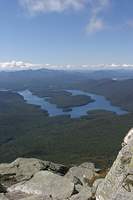 The Adirondacks and the Lake Champlain Valley of Upstate New York and Vermont have been renowned for their hospitality and lodging since the turn of the century when the rich and famous constructed spectacular Great Camps and huge rustic hotels during the "Gilded Age". Today, visitors have their pick of a wide and eclectic assortment of accommodations including charming Bed and Breakfasts, lovely country inns, rustic lodges, modern hotels and European style resorts. For the more adventurous, there are rustic base camps located in the heart of the High Peaks region offering simple bunkroom accommodations and lean-to camping for hikers and mountain climbers.
We invite you to browse our exciting selection of Inns, Resorts, Bed and Breakfast's, lodges and hotels featured below. Enjoy your visit!
Adirondack Lodging by County
(maps below)

Altona, Ausable, Beekmantown, Black Brook, Champlain, Chazy, Clinton, Dannemora, Ellenburg, Mooers, Peru, Plattsburgh, Saranac, Schuyler Falls


Old Forge, Big Moose
Columbia, Danube, Fairfield, Frankfort, German, Flatts, Herkimer, Litchfield, Little Falls, Manheim,Newport , Norway, Ohio, Russia, Salisbury, Schuyler, Stark, Warren, Webb/ Wilmurt, Winfield Village of Ilion


Chesterfield , Crown Point, Elizabethtown, Jay, Keene, Keeseville, Lake Placid, Lewis, Minerva, Mineville-Witherbee Moriah, Newcomb, North Elba, North Hudson, Port Henry, Saranac Lake , Schroon, St. Armand, Ticonderoga, Ticonderoga Upper Jay, Westport , Willsboro, Wilmington, Whiteface


Beaver Falls, Boonville, Brantingham, Carthage, Castorland, Constableville, Copenhagen, Croghan, Deer River, Denmark, Diana, Glenfield, Greig, Harrisburg, Harrisville, Lewis, Leyden, Lowville, Lyons Falls, Lyonsdale, Martinsburg, Montague, Natural Bridge, New Bremen, Osceola, Pinckney, Port Leyden, Taberg, Turin, Watson, West Leyden, West Turin


Alburg, Alder Brook, Axton Landing, Bangor, Bombay, Brainardsville, Burke Center, Chateaugay, Constable, Cooks Mill, Coreys, Dickinson Center, Duane, Fort Covington, Franklin Falls, Gabriels, Harrietstown, Hogansburg, Keese Mill, Lake Clear, Loon Lake, Malone, McColloms , Moira, North Burke, Onchiota,, Paul Smiths, Saint Regis Falls, Santa Clara, Saranac Inn, Saranac Lake, Trout River, Tupper Lake, Vermontville, Wawbeek,


Bolton, Chester, Glens Falls, Hague, Horicon, Johnsburg, Lake George, Lake Luzerne, North Creek, Queensbury, Stony Creek, Thurman, Warrensburg, West Glens Falls


Raquette Lake, Indian Lake,
Blue Mountain Lake , Arietta, Benson, Hope, Indian Lake, Inlet, Lake Pleasant, Lake Pleasant, Long Lake, Morehouse, Speculator, Wells


Cranberry Lake, Potsdam
Ogdensburg, Canton ,Edwards, Gouverneur, Hammond , Hermon, Heuvelton, Massena, Morristown , Norwood, Potsdam, Rensselaer Falls, Richville,Waddington


Amsterdam, Bleecker, Broadalbin, Caroga, Caroga Lake, Dolgeville, Ephratah, Fonda,Fort Plain, Gloversville, Johnstown, Mayfield, Northampton, Northville, Oppenheim, Perth, Saint Johnsville, Stratford


Corinth, Country Knolls Day, Edinburg Galway, Greenfield, Hadley, Halfmoon Lake Luzerne-Hadley Malta, Mechanicville, Milton, Moreau, North Ballston Spa, Northumberland, Providence, Round Lake, Saratoga Springs, Saratoga, Schuylerville, South Glens Falls, Stillwater, Stillwater, Victory Waterford, Waterford, Wilton

SAVE UP TO 50% ON ADIRONDACK LODGING





New York - Vermont

B&B's and Inns Hotels & Motels
Map of Adirondack Counties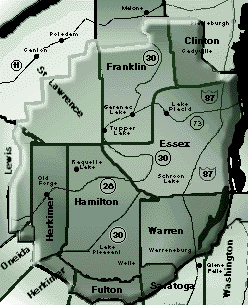 Map of the Adirondack Region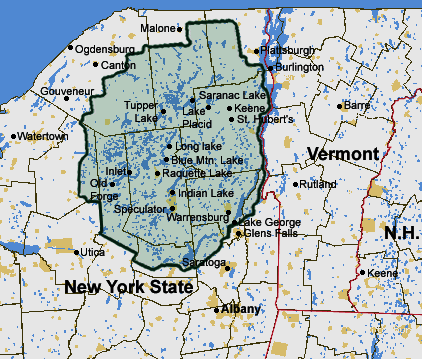 ---
Beautiful 'four seasons' waterfront compound ideal for family reunions, weddings, snow mobile groups & corporate retreats!



Remarkable setting on one of the most beautiful lakes
in the Adirondacks!
Perfect for large groups up to 40 people!

Attention Snow Mobilers
Book your reservations now for the upcoming winter season!
This facility is ideal for large or small snowmobile clubs & groups. Located directly on a main Adirondack snowmobile route connecting to hundreds of miles of snowmobile trails throughout Upstate New York.
click here
---

Calendar of Events | Vacation Rentals | Real Estate | Lodging & Accomodations
Dining | Summer Sports | Winter Sports | Arts & Crafts | Attractions
Shopping | Adirondack Kids | Adirondack Lifestyles | Education
Business Profiles | Community Links | Business Directory | Classifieds
Adirondack History | Bulletin Board | Chat Room | Guestbook Comments | Return Home
BACK TO THE TOP
New York State & Vermont
Travel Guide Network
We invite you to visit one of the largest and most comprehensive award winning travel networks in New York State
& neighboring Vermont .
Choose your visitor guide by clicking on any one of the links below!
Adirondacks.com | AdirondackRealEstate.com | AdirondackRentals.com |GlensFalls.net | LakePlacidNY.com | SaranacLakeNewYork.com | Saratoga-NewYork.com | Upstate-NewYork.com | LakeChamplainValley.com | Burlington-Vermont.com | ThousandIslandsNewYork.com | MaloneNY.com | NorthCreekNY.com | WestportNewYork.com | CliftonParkNewYork.com |
Albany-New-York.com | Troy-NewYork.com | Utica-NewYork.com | Rome-NewYork.com | WarrensburgNewYork.com | Potsdam-NewYork.com | AdirondackHighPeaks.com | Canton-NewYork.com | Massena-NewYork.com | Plattsburgh-NewYork.com | LakePlacid-NewYork.com | GlensFalls.net | SchroonLakeNewYork.com | KeeneNY.com | KeeneValleyNY.com | ChestertownNY.com | GlensFallsNY.com | TiconderogaNewYork.com | TheChamplainValley.com | Champlain-Valley.com | ChamplainValleyRegion.com |
ChamplainValley.net | SaratogaSpringsRegion.com | Watertown-NewYork.com |
SaranacLakeNY.com | HighPeaksWilderness.com | VisitUpStateNewYork.com | VermontTravelGuides.com | Burlington-Vermont.com | StAlbans-Vermont.com | Rutland-Vermont.com | Middlebury-Vermont.com | Montpelier-Vermont.com |
Bennington-Vermont.com | Brattleboro-Vermont.com | NewYorkSkiing.com |
New YorkHiking.com | AdirondackHiking.com | AdirondackFishing.com |
AdirondackCamping.com | AdirondackSkiing.com | LakePlacidSports.com | LakePlacidSkiing.com | SaratogaSpringsRegion.com | SaratogaInns.com
| SaratogaHotels.com | SaratogaAttractions.com | SaratogaSpringsDining.com |
SaratogaSpringsLodging.com | SaratogaSpringsRestaurants.com |
SaratogaDirectory.Com | LakePlacidNY.com | LakePlacidHotels.com |
LakePlacidShopping.com | LakePlacidRestaurants.com | LakePlacidInns.com |
LakePlacidDining.com | LakePlacidResorts.com | LakePlacidSports.com | LakePlacidSkiing.com | LakePlacidHockey.com | LakePlacidSchools.com | OldForge-NewYork.com | AdirondackRestaurants.com
AdirondackWeddings.com | AdirondackCamping.com | AdirondackFishing.com |
AdirondackShopping.com | AdirondackLodging.com | AdirondackHotels.com
| AdirondackDining.com | AdirondackSkiing.com | AdirondackWeather.com
| AdirondackCrafts.com | VillageofLakeGeorge.com | DiscoverLakeGeorge.com |
Lake-George-NewYork.com | LakeGeorgeClassifieds


www.AdirondacksOnline.com

43 Broadway
Saranac Lake, New York 12983
Phone: 518-891-3745 Fax: 518-891-3768
E-Mail: AdirondacksOnline.com
webmaster: Susan Moore
This website is owned and operated by
adirondacksonline.com internet publishing group.
For advertising and editorial content,
please contact Rob Grant;
adirondacksonline.com reserves the right to reject,
modify or cancel any advertising at its sole discretion.
© 2005 AdirondacksOnline.com - all rights reserved
adirondacks, new york guide, adirondack mountains, Lake Placid, NY, lake placid resources, restaurants, real estate, lodgings, accomodations, canoeing, new york fishing, NY hiking, skiing, biking, ski, snow, attractions, events, New York Businesses
adirondacks, new york guide, adirondack mountains, Lake Placid, NY, lake placid
resources, restaurants, real estate, waterfront properties, vacation rentals, Saranac lake,
NY, Lake Placid, Tupper Lake, Old Forge, Hamilton, Essex County, Franklin County,
ADIRONDACK ACCOMMODATIONS, ADIRONDACK ACCOMMODATION, ADIRONDACK LODGING, ADIRONDACK LODGING, ADIRONDACK ACCOMMODATIONS, ADIRONDACK ACCOMMODATION, ADIRONDACK LODGINGS, ADIRONDACK LODGING, ADIRONDACK LODGINGS, ADIRONDACK LODGING, ADIRONDACK ACCOMMODATIONS, ADIRONDACK ACCOMMODATION, ADIRONDACK LODGINGS, ADIRONDACK ACCOMMODATIONS, ADIRONDACK ACCOMMODATION, ADIRONDACK LODGING, ADIRONDACK LODGINGS, ADIRONDACK ACCOMMODATIONS, ADIRONDACK ACCOMMODATION, ADIRONDACK LODGING, ADIRONDACK LODGING,ADIRONDACK LODGING, ADIRONDACK LODGINGS, ADIRONDACK ACCOMMODATIONS, ADIRONDACK ACCOMMODATION, ADIRONDACK LODGINGS, ADIRONDACK LODGING, ADIRONDACK LODGING, ADIRONDACK LODGINGS, ADIRONDACK LODGINGS, ADIRONDACK ACCOMMODATIONS, ADIRONDACK ACCOMMODATION, ADIRONDACK LODGING, ADIRONDACK LODGING, ADIRONDACK ACCOMMODATIONS, ADIRONDACK ACCOMMODATION,lodgings, accomodations, canoeing, hiking, skiing, biking, ski, snow, fall foliage, fly fishing,
trout, bass, hunting, dining, dog sledding, snowmobiling, snowshoeing, Cross Country Skiing, Telemarking, Mountaineering, 46 peaks, White Mountains,
High Peak Mountains, Kids, children, family, families, travel, tourism, Motels, Bed and Break fast,
Country Inns, Adirondack Guides, attractions, events, New York Businesses