Welcome to Adirondack Vacation Rentals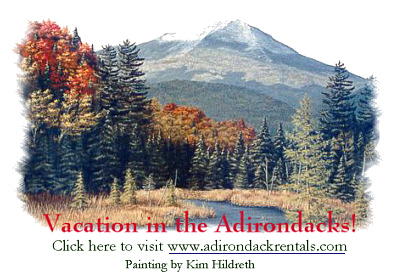 Welcome to Adirondack Vacation Rentals.
To select a location, please click on the buttons below.
Enjoy your visit!!


Click here for a map of the Adirondack Park
and surrounding areas!

To preview hundreds of vacation rental properties throughout Lake Placid and the Saranac Lakes Region click on the photos below - for all other regions please click on the location by county.



Beautiful 'four seasons' waterfront compound ideal for family reunions, weddings, snow mobile groups & corporate retreats!



Remarkable setting on one of the most beautiful lakes
in the Adirondacks!
Perfect for large groups up to 40 people!

Attention Snow Mobilers
Book your reservations now for the upcoming winter season!
This facility is ideal for large or small snowmobile clubs & groups. Located directly on a main Adirondack snowmobile route connecting to hundreds of miles of snowmobile trails throughout Upstate New York.
click here
Visit this months showcase vacation rentals:


Camp McCauley, Saranac Lake


5 bedrooms, 3 baths, great room with stone fireplace, Cross country ski trails on 55 acres.



McCauley Cottage, Saranac Lake


2 bedrooms, sleeps 6, 1 bath, bright and sunny, on 55 acres, Cross country ski trails, stone fireplace.





Calendar of Events | Vacation Rentals | Real Estate | Lodging & Accomodations
Dining | Summer Sports | Winter Sports | Arts & Crafts | Attractions
Shopping | Adirondack Kids | Adirondack Lifestyles | Education
Business Profiles | Community Links | Business Directory | Classifieds
Adirondack History | Bulletin Board | Chat Room | Guestbook Comments | Return Home



43 Broadway
Saranac Lake, New York 12983
Phone: 518-891-3745 Fax: 518-891-3768
E-Mail: AdirondacksOnline.com
This website is owned and operated by
adirondacksonline.com internet publishing group.
For advertising and editorial content,
please contact Rob Grant;
adirondacks.com reserves the right to reject,
modify or cancel any advertising at its sole discretion.
© AdirondacksOnline.com - all rights reserved
adirondacks, new york guide, adirondack mountains, Lake Placid, NY, lake placid
resources, restaurants, real estate, waterfront properties, vacation rentals, Saranac lake,
NY, Lake Placid, Tupper Lake, Old Forge, Hamilton, Essex County, Franklin County,
lodgings, accomodations, canoeing, hiking, skiing, biking, ski, snow, fall foliage, fly fishing,
trout, bass, hunting, dining, dog sledding, snowmobiling, snowshoeing, Cross Country Skiing, Telemarking, Mountaineering, 46 peaks, White Mountains,
High Peak Mountains, Kids, children, family, families, travel, tourism, Motels, Bed and Break fast,
Country Inns, Adirondack Guides, attractions, events, New York Businesses