FEATURED LISTINGS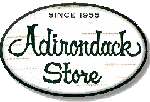 Adirondack Store
52 Broadway, Saranac Lake, New York 12983 Phone: 518-891-3745
The Adirondacks evoke the essence of the North Woods: deep forest colors, birch bark textures. the scent of pine and cool, fresh air. Our Adirondack Collection embodies this feeling with gifts, home accessories and rustic furniture that are a blending of rustic elegance, whimsical function and North Country tradition. All items in our Adirondack Collection are from the Adirondack Store



Ausable River Sport Shop - 518-946-1250
For all of those who have thought about learning to fly fish now is the time to do it! Ausable River Sport Shop is offering a Learn to Fly Fish program that is hard to pass up.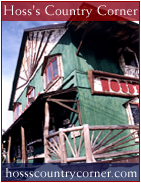 HOSSíS COUNTRY CORNER - A Unique Adirondack Shopping Experience.
Located in beautiful Long Lake, NY, Hoss's Country Corner, is comprised of several buildings catering to all your gift and Adirondack needs. Books, Maps, Rustic Accents, Fancy Food, Handcrafts, Clothing, Gift Pacs are some of the many items Hoss's offers to its valued customers. Shop online, or call us 1.800.952.HOSS to order your favorite Long Lake or Adirondack memorabilia. Hoss's Country Corner has great gift ideas for everyone.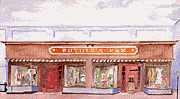 Ruthies Run
11 Main Street Lake Placid NY 12946 518-523-3271 We are a full service specialty retailer of better sportswear and skiwear for ladies and men. Our lines include: Geiger, Basler, Bogner, Barry Bricken, Robert Comstock, Corbin, Pendleton, David Brooks, Viyella, Fjall, Dale of Norway, Dia, Christine Foley, Tsunami, Foxcroft, Skea, Obermeyer, Icelandic Designs, Rainforest, Brighton, M. Miller, Tecnica, and many more. We also rent tuxedos.


Tubbs Snowshoes
Located in Stowe, Vermont, Tubbs is the leading manufacturer of durable, lightweight snowshoes featuring supportive binding/crampon systems. Models for men, women, and children.





Action Outfitters - Our store provides hundreds of brand name products, all for the outdoor enthusiast. We specialize in Skiing, Hiking, Biking and In-Line Skating.
Adirondack Lakes & Trails Outfitters - Canoe and Kayak rentals and sales. 168 Lake Flower Ave. Saranac Lake, NY 12983 800-491-0414
Adirondack Outdoor Company - Trapping, Hunting, Camping and outdoor supplies, Deer Lures, Taxidermy, Furs, Packbaskets, Snowshoes, Books, Gifts & more
AJ's Ski Shop - Mountain Rd, Stowe VT 05672, (802)476-4451
Al's Snowmobile Parts Warehouse - New, Used, and Reconditioned Parts Shipped Worldwide Daily via UPS & FedEx
All Sorts of Sports - 18 Newell Ave.
Alpine Shop, The - Alpine skis, snowboards, kayaks, canoes, tennis raquets & restinging, bicycles, sportswear footwear, outterwear 1184 Williston Rd, S. Burlington, VT 05403, 802-862-2714
Aspen East Ski Shop - Your online ski specialty store!
Ausable River Sport Shop - 518-946-1250
Bevin's Marine & Cycle Center - 407 Barre Street Montpelier VT 05602 802-233-2346
Blue Line Sport Shop - 82 Main 518-891-4680

Blue Mountain Outfitters - 37 Main St 518-523-4555
Bug-Off All Natural Insect Repellent - 100% Chemical-free. 100% Cruelty-free. 100% Guaranteed. 100% Effective. Bug-Off all-natural insect repellent repels mosquitoes, black flies, gnats, no-seeums, and fleas, among others. Guaranteed!
Cascade Surplus - 55 Senitel Rd. 518-523-3489
Century Arms Inc - 5 Federal Street St.Albans VT 05478 802-527-1257
Climb High - 2438 Shelburne Road, Shelburne VT 05482 802-985-5055
Cloth'N Canvas Recovery - 99 Prim Rd, Colchester, VT 05446, 802-658-6826
Clothes Line The - 16 Broadway 518-891-3850
Cobbler Shop - 223 Main St. 518-523-3679
Cook's Equipment - New and used trail grooming equipment for ski resorts and snowmobile clubs
Cunningham's Ski Barn - Main St. 518-523-3706
Cutting Edge - 331 Main 518-523-4950


Dock Doctors - Vermont's leading manufacturer and seller of docks and dock-related equipment
Downhill Edge Ski Rack - 65 Main St, Burlington, VT 05401, 802-862-2282
Eastern Mountain Sports - 100 Dorset St, S. Burlington, VT 05401, 802-864-0473
Essex Junction Bicycles - 50 Pearl St, Essex Junction, VT 05452, 802-878-1275
First Stop Ski Shop - Your new first stop in Skis, bikes and snowboards.
Foot of the Notch Bicycles - 134 Church St, Jeffersonville, VT 05464, 802-644-8182
Get Fleeced - 83 Main 518-523-9764
Handmade Western Saddles - This web page will introduce you to Saddlemaker Michael Merrigan and Benshine Saddlery and the services offered at his Saddle and Leather shop.
Honda Four-Stroke Outboard Marine Engines - 736 Industrial Ave, Williston, Vt 05495, 802-863-5523
Jericho Sports - 15 Lafayette Dr, Jericho, VT 05465, 802-899-3549
Leisure Lines - Woodstock Avenue 800-244-0854
Maui North - 31 Durkee Street Plattsburgh, NY 12901 (518)563-7245
Middlebury Mountaineer - 3 Mill St, Middlebury, VT 05753, 802-388-1749
Mountain and Boardertown - Rossignol Skis and snowboards, Rocky Mountain Bikes, Connelly water skis, Karbon and Salomon Bonfire outerwear, full service shop rentals and repairs. 359 Main Street, Lake Placid 518-523-9443
Mt. Van Hoevenberg Cross Country Rentals - Main St. 518-523-1176
New England Fitness Equipment - Nefitco offers you hundreds of common and hard-to-find fitness accessories.
Nichols And Dymes - 9 Blair Park Rd, Williston, VT 05495, 802-288-9570
North Star Cyclery - 100 Main St, Burlington, Vt 05401, 802-863-3832
Notch Above - 153 Main 518-523-3702


Olympic Center Gift Shop - Olympic Center 518-523-4369
Otis Tack Shop Online - Top brand name saddles and horse supplies at discount prices. Free shipping!
Peak Edge Performance Inc. - 21 Mirror Lake Dr. 518-523-8706
Peak Performance Ski Shop - will provide that "Peak Experience" when you visit our shop.
Pinnacle Ski & Sports - Convenient location, fast and friendly service. Ski rentals
Play It Again Sports - 30 Plattsburgh Plz
Reach Up Program - 1193 North Avenue
Recovery Room - 1243 Bay Rd, Colchester, VT 05446, 802-878-1930
Rick's Seat and Top Shop - 79 Swift, S. Burlington, VT 05401, 802-864-0513
Ruthie's Run - 11 Main Street 518-523-3271

Sand Hill Black Powder Shop - Muzzleloading Guns & Accoutrements
Schirmer's Fly Shop - Your Full Service Fly Fishing Shop.
Shell Boats - We hope you will find the boat of your dreams. We offer to you in three affordable options: BOAT KITS, FINISHED BOATS, or BOAT PLANS.
Shooters Choice Custom Caspian Firearms - Custom Built Firearms on Caspian 1911a1 Frames, for all types of shooters needs, Combat, Carry, Bullseye, The Finest Custom Built Firearms in the World
Ski Demo Center - We have the perfect ski!
Skirack - All season sporting goods store.
Sportsman's Engraver - museum Grade Engraving at a Modest Price
Stitches Afloat - 4580 Harbor Rd, Shelburne, VT 05482, 802-985-9547
Strictly Boats - Boats for sale! Free online listing.
Summit The - 111 Main St. 518-523-2881
T C Sports - 33 Smithfield Blvd
The Edge In Sports - 220 Main 518-523-1973
The Marine Collection - 2073 Willison Rd, S. Burlington, Vt 05401, 802-658-9420
The Marine Exchange - 723 Porters Point Rd, Colchester, Vt 05446, 802-862-7058
The Mountain And Boardertown - Main Street 518-251-3111
The Old Spokes Home - 324 N. Winooski Ave, Burlington, Vt 05401, 802-863-4475
The Sportsmans Engraver - Museum grade engraving at a modest price, done the
Tubbs Snowshoes - Located in Stowe, Vermont, Tubbs is the leading manufacturer of durable, lightweight snowshoes featuring supportive binding/crampon systems. Models for men, women, and children.
Tupper-Bowl Inc. - 1939 State Route 30


Vallaris Self-Defense Centers - Self-Defense
Vermont Camping Supply - 11 Park St, Essex Junction, VT 05452, 802-879-8690
Vermont Canoe Products - Brownington Pond Rd, Brownington, VT , 800-454-2307
Victory Sports - 165 Heinseberg Dr, Colchester, VT 05446, 802-862-0963
Viking Ski and Cycle - skis, kayaks, bicycles, rollerblades, snowboards, equipment rentals & repair, and outdoor clothing. 453 Route 3 Plattsburgh, NY 12901 (518)561-5539
Wildlife Habitat Consultants - Are you interested in wildlife? Do you enjoy watching wild animals? We can help you establish better food sources on your property to attract more wildlife for hunting or viewing.
Winooski Bicycle Shop - 12 W. Canal St, Winooski, VT 05495, 802-655-3233