Music Events
For exciting events,
take a look at The Arts Council for the Northern Adirondacks
or the North Countrys' Calendar of Events
Lake Placid Sinfonietta 2003 Events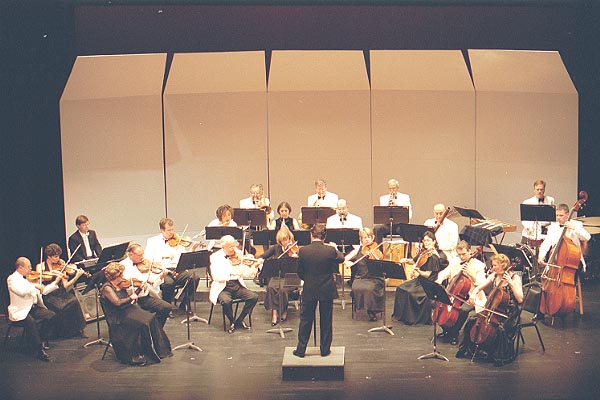 Music in the Mountains 2003
Celebrates the 86th year of the
Lake Placid Sinfonietta
July 4 through August 10, 2003
Lake Placid, New York
With performances also in
Saranac Lake, and Tupper Lake
The Adirondack Park's only professional orchestra, the Lake Placid Sinfonietta is comprised of twenty musicians of exceptional quality from around the country who bring excitement and vitality to all their performances. The six part Summer Symphony Series will feature Guest Artists Ilya Kaler and Elizabeth Woo, violinists, concert pianist Gwhyneth Chen, soprano Nancy Davis Booth, tenor Richard Crawley, and soprano Erin Booth Achilles. Concerts will be held at the Lake placid Center for the Arts, (lpca@northnet.org) the Paul White Memorial Shell, Saranac Lake and Tupper Lake.
A "Friends and Families" concert on July 11 will feature a 7:00 start time, a program designed to appeal to children and their adult companions, and will feature sopranos Nancy Davis Booth and her daughter Erin Booth Achilles.
If you're looking for memories of great musicals a sparkling pops concert, "Broadway to Hollywood" on August1 will feature music from your favorite shows.
The favorite Pops in the Park series is back with performances in the Paul White Memorial Shell on July 4th, 9th ,23rd and August 6th
"H.M.S. Pinafore" July 24 & 25, 8 PM at the LPCA. In another special initiative collaboration with the Lake Placid Center for the Arts, the orchestra appears with the New York Gilbert and Sullivan Players, Albert Bergeret Director in a full performance of this G & S favorite
For very young children, the free Children's Concert, sponsored by Stewarts Shops, on July 30 at 10:30 AM will feature an introduction to the orchestra followed by the children's classic, Peter and the Wolf. Part of the LPCA's Mirror Lake InnYoung and Fun Series, this concert is open to the first 350 arrivals.
For those who prefer to attend an afternoon performance, an "Afternoon Senior Matinee"on July 31 features a 2:00 PM start time and a reduced general admission of $5.
The orchestra travels to Saranac Lake on July 18, for a free 7 PM performance at the Town Hall and Tupper Lake on August 7 for a 7 PM performance at St. Alphonsus Church. Admission at the door of the Tupper Lake Concert will benefit the Natural History Museum of the Adirondacks.
For Further information please Contact the Lake Placid Sinfonietta at :
PO Box 1303
Lake Placid, NY 12946
Phone: 518-523-2051
Email: lkplsinf@northnet.org

Music and Entertainers
Slosson Music Studios
West Chazy, NY

Audio-Vision
Lake Placid, NY

Bobs Music Store
Plattsburgh, NY

Bordeau Custom Guitars
Malone, NY

Rick Day Drum Sleuth
Upper Jay, NY

The Music Shop
Plattsburgh, NY

Ampersound
Saranac Lake, NY

By Request Entertainment
Plattsburgh, NY

DJ Bill Entertainment Co & Karaoke
Plattsburgh, NY

Duffus Thomas-Bagpiper
Saranac Lake, NY

Entertainment Unlimited
Plattsburgh, nY

Fantasy Entertainment
Plattsburgh

G & B Special Effects DJ Services

The Lonely Tom Cat Band
Mooers Fork, NY

Oakwood Theatre
Saranac Lake, NY

Ticonderoga Festival Guide
Ticoinderoga, NY

Calendar of Events |  Vacation Rentals |  Real Estate |  Lodging & Accomodations
Dining |  Summer Sports |  Winter Sports |  Arts & Crafts |  Attractions |  Shopping
Adirondack Kids |  Adirondack Lifestyles |  Business Profiles |  Business Directory |  Classifieds
Meet Our Sponsors |  Adirondack History |  Chat Room |  Return Home
BACK TO THE TOP

adirondacks, new york guide, adirondack mountains, Lake Placid, NY, lake placid resources, restaurants, real estate, lodgings, accomodations, canoeing, new york fishing, NY hiking, skiing, biking, ski, snow, attractions, events, New York Businesses
adirondacks, new york guide, adirondack mountains, Lake Placid, NY, lake placid
resources, restaurants, real estate, waterfront properties, vacation rentals, Saranac lake,
NY, Lake Placid, Tupper Lake, Old Forge, Hamilton, Essex County, Franklin County,
lodgings, accomodations, canoeing, hiking, skiing, biking, ski, snow, fall foliage, fly fishing,
trout, bass, hunting, dining, dog sledding, snowmobiling, snowshoeing, Cross Country Skiing, Telemarking, Mountaineering, 46 peaks, White Mountains,
High Peak Mountains, Kids, children, family, families, travel, tourism, Motels, Bed and Break fast,
Country Inns, Adirondack Guides, attractions, events, New York Businesses