Hamilton County offers a variety of hiking opportunities to suit your level of ability
Please scroll down the list to find your trail.

Blue Mountain Trail:
A large parking area for the Blue Mt. Trail and the Tirrell Pond Trail is located on the east side of Route 30/28N one tenth of a mile north of the Adirondack Museum in Blue Mt. Lake. The trail to the summit of Blue Mt. heads east from the trailhead starting along a woods road on Finch, Pruyn Company Inc. lands. The trail climbs 1550 ft. in elevation with moderate to steep grades, ending at the fire tower. Good views are possible from the flat topped summit. Located west of Blue Mt. Lake, NY

Rock Lake Trail:
A parking area on Route28/30 at a point 1.6 miles northwest of the Sawyer Mt. trailhead provides the easiest access to Rock Lake. The trail heads northeast from the road and intersects the Indian Lake Lake Durant Snowmobile Trail just before reaching a wet brushy area. From this junction the snowmobile trail heads northwest to Lake Durant. The hiking trail turns right crossing a snowmobile bridge over Johnny Mack Brook and turning northeasterly to end at the lakeshore. The snowmobile trail continues southeastly along Rock Lake to the Rock River Trail. Located northwest of 28/30

Buttermilk Falls:
A short unmarked path to this popular waterfall begins on the North Point Rd. Located 2.1 miles southeast of Rt. 30.

Rock River Trail:
The parking area for this trail is located .2 of a mile west of the Sawyer Mt. trailhead. This trail passes near the east shore of Rock Lake and ends at the Rock River. Located northwest of Rts. 28/30.

Cascade Pond Trail:
The trail turns sharp right leaving the road, and crosses Rock Pond Outlet over a long boardwalk. Cascade Pond leanto is rached in 2.8 miles. The trail continues southeast for .8 of a mile to intersect the Northville-Lake Placid Trail north of Stephens Pond. Located south of the hamlet of Blue Mt. Lake, NY.

Sawyer Mt. Trail:
This trail provides an easy climb to a mountain summit. Just beyond the wooded summit is a rock ledge iwth a scenic overlook. Located south of Rt. 28.

Lake Lila Primitive Area:
This area offers a wide range of hiking possibilities. The lake itself, is home to an enormous variety of waterfowl, and other wildlife. Camping is permitted on four of the islands in the lake, as well as a variety of other places. Canoeing, fishing and hunting as well as a 500 foot climb to the top of Mt. Frederica, which affords beautiful views of the lake. Located in Long Lake, NY

Sly Pond Trail:
This approximately 5.5 mile hike, takes you part of the way up Moose Mt., before descending to Sly Pond. The high acid content of this pond, has made uninhabitable by fish. Located adjacent to Indian Lake, NY

Lower Sargent Pont/Tioga Point Trails:
Proceed south from trailhead, to reach the pond. A trail continues westerly from the trail junction and intersects the Lower Sargent Pond Trail, from the North Point Rd. the trail proceeds south past the western shore of Grass Pond to intersect the trail to Upper Sargents Pond. The Lower Pond Trail continues westerly, crossing the outlet of Upper Sargent Pond. A short distance from this stream, a fish barrier dam can be seen on the outlet of Lower Sargent Pond. Located north of Rt. 28, and west of 30.

Snowy Mountain:
A difficult climb, Snowy Mountain is well worth the work. Incredible views of Indian Lake, and the surrounding wilderness can be seen from the rocky ledges at the summit. These cliffs can be dangerous. Located just south of Indian Lake, NY

Mitchell Ponds:
Level terrain makes this a very enjoyable walk, or bike, and takes you on a pennisula between the two ponds. Scenic cliffs line one side of the penninsula. Located southeast of Old Forge, NY

Tirrell Pond Trail:
This trail heads north from the combined Blue Mt./Tirrell Pond parking lot mostly on private roads, gradually turning east skirting the north slope of Blue Mt. and intersecting the Northville-Lake Placid Trail just north of Tirrell Pond. Located northeast of Blue Mountain, NY

Northville-Lake Placid Trail:
Traversing approximately 133 miles, the Northville-Lake Placid Trail crosses both Hamilton, and Essex counties. You will need an average of 19 days to hike the entire trail, but any and all parts are remarkable in their own right. Ponds, streams, lakes, mountains, and picturesque villages will be your companions as you journey this almost 30 year old trail thru the center of the Adirondack Park.Located: Trail begins in Northville, and ends in the Village of Lake Placid. For more information on this exciting trail, click here.

Upper Sargent Pond Castle Rock Trails:
This trail passes generally north of Chubb Pond and proceeds westerly to the shoreline of Upper Sargent Pond. A .5 mile yellow marked spur trail on the left begins 1.5 miles after leaving the road. This ttrail leads to the summit of Castle Rock, which provides a scenic overlook of the Blue Mt. Lake Area. Trailhead located: 1 + miles west of Rt. 30 at the end of Maple Lodge Rd.

Owls Head Mt. Trail:
The hiking and snowmobile trails parallel and join each other with a trail junction reached 1.2 miles from the road. The red marked hiking trail proceeds westerly climbing steeply to a panoramic mountain summit. Total ascent from the trailhead is 1060 ft. Located 1.6 miles from Rt. 30, near Endion Rd.

Wilson Pond Trail:
The trail begins near Eagle Lake, passes Grassy Pond and crosses the outlet to Rock Pond before ending on the north shore of Wilson Pond where a leanto is located. Located south of Rt. 28, near Eagle Lake.
Please remember if you bring it in, make sure you bring it out!!!
Always leave an area the way it was before you got there - Lets keep the Adirondacks Clean!!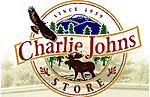 Charlie Johns Store Visit Charlie Johns store at The Four Corners in Speculator, NY. In addition to a full-service supermarket we stock a variety of camping and hiking supplies, including: sleeping bags, tents, repair parts, Coleman fuel, folding chairs, ponchos, air mattresses and much more! For more information visit our website at www.charliejohns.com. Online you can purchase over 300 titles of books on the Adirondacks and wilderness as well as camping and hiking trail guides with FREE SHIPPING! While online click the True Value banner to shop direct from the True Value warehouse where thousands of items, tips, projects, and advice are available right from the source!


Back To the Hiking

Calendar of Events |  Vacation Rentals |  Real Estate |  Lodging & Accomodations
Dining |  Summer Sports |  Winter Sports |  Arts & Crafts |  Attractions
Shopping |  Adirondack Kids |  Adirondack Lifestyles |  Education
Business Profiles |  Community Links |  Business Directory |  Classifieds
Adirondack History |  Bulletin Board |  Chat Room |  Guestbook Comments |  Return Home
BACK TO THE TOP

hiking, adirondacks, Hiking, Camping, Backcountry trails, hiking Trails, new york guide, adirondack mountains, Lake Placid, NY, lake placid,adirondacks, new york guide, adirondack mountains, Lake Placid, NY, Fishing, Trout, Fly Fishing, lake placid resources, restaurants, real estate, lodgings, accomodations, canoeing, new york fishing, NY hiking, skiing, biking, ski, snow, attractions, events, New York Businesses
adirondacks, Hiking, Camping, Backcountry trails, hiking Trails, new york guide, adirondack mountains, Lake Placid, NY, lake placid
resources, restaurants, real estate, waterfront properties, vacation rentals, Saranac lake,
NY, Lake Placid, Tupper Lake, Old Forge, Hamilton, Essex County, Franklin County,
lodgings, accomodations, canoeing, hiking, skiing, biking, ski, snow, fall foliage, fly fishing,
trout, bass, hunting, dining, Fly Fishing, New York, dog sledding, snowmobiling, snowshoeing, Cross Country Skiing, Telemarking, Mountaineering, 46 peaks, White Mountains,
High Peak Mountains, Kids, children, family, families, travel, tourism, Motels, Bed and Break fast,
Country Inns, Adirondack Guides, attractions, events, New York Businesses