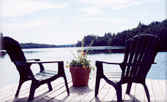 Ampersand Bay Boat Club
16 Ampersand Bay Road , Saranac Lake, NY 12983
(518) 891-3001
Ampersand Bay Resort & Boat Club is located on the eastern shores of Lower Saranac Lake and is home to the best view in the Adirondacks. Lodging at Ampersand Bay includes a variety of accommodations, and they all share our 40 wooded acres and 1000+ feet of Lake Frontage. There are hand-hewn cedar log cabins, charming cottages, three large suites directly on the lake, studio rooms, and six individual knotty pine rooms in the Heron Creek Boathouse. All cabins, cottages and suites have kitchens and cable color tv.


British Soldiers Camps
6 Cliff Road, Saranac Lake, NY 12983 - (518) 891-1439
From your secluded cottage stroll to the 'forever wild' lake, McKenzie, where a canoe awaits you. Our forested cabins are a haven of tranquility, conveniently located just three minutes to the village of Saranac Lake, 10 minutes to Lake Placid. Each camp is fully equipped. We are mindful that your vacation days are precious, and we strive to enhance your Adirondack experience by the completeness of our furnishings. We hope you have a wonderful holiday at British Soldiers Camps.




All Hotel Search Lake Placid
Stop here first for great deals on hotels in Lake Placid, New York. Compare our Lake Placid, New York hotel rates and save up to 50%!. Book online now!



Cochrans Cabins - 1150 Kiwassa Lake Road, Saranac Lake, NY 12983 - (518) 891-5721, Email: douglas@northnet.org
Adirondack cabins on over 20 private, wooded acres on Lake Kiwassa which has water access to Oseetah Lake, Lake Flower and the Saranac Chain of Lakes. Each housekeeping cabin has a kitchen, wood burning stove, screened porch and private docks. Boats and canoes available,Open year-round. 3.5 miles south of the village and cabin prices range from $500 - $975 weekly. Fishing Packages available.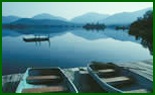 Elk Lake Lodge
Elk Lake Road, North Hudson, NY
Phone:518-532-7616
Email: info@elklakelodge.com
Described by National Geographic as "the jewel of the Adirondacks," Elk Lake is a 12,000-acre wilderness resort in the heart of the High Peaks. 40 miles of private trails, two lakes offering canoeing, swimming and fishing for trout or landlocked salmon. Turn-of-the-century lodge and private cottages. Note: Rates are per person, per night, Modified American Plan with Dinner and Breakfast included.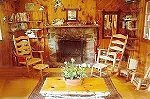 Fourpeaks--Adirondack Backcountry Camps
Email: http://4peaks.com/frmemail.htm Phone: 518-524-6726
Stonehouse Road, P.O. Box 76, Jay NY 12941 (Lake Placid--17 miles.) 6 Backcountry Cabins on 700 acres with 4 mountains. Secluded wilderness vacations in the High Peaks of New York's 6-million acre Adirondack Park. 20 miles of private hiking/skiing trails. AuSable River swimming/floating/fishing. A romantic getaway--private nature retreat. Authentic Adirondack furnishings. Fireplaces. Full kitchens. Pet-friendly. Visit our award-winning website at 4peaks.com for photos, maps, activities and detailed descriptions. 400+ pages big, it's a virtual Adirondacks. "Here's a vacation you won't forget!"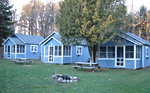 The Garden Cottages
19 Fowler Ave. Schroon Lake, NY 12870
phone: (518) 532-0570
We offer... Four Housekeeping cottages on quiet residential street Full kitchen with eat in area. Bathroom with shower Sleeps 4 in 2 bedrooms , double bed and two twin beds screened-in porch with Adirondack chairs Picnic Tables BBQ grills, bring your own charcoal Campfire Area, Volleyball, Horseshoes, Bocce Ball, Frisbees, Croquet & A huge wooden playground for the kids!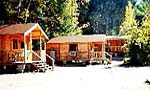 Camping Cabins at Yogi Bear's Jellystone Park -Paradise Pines
P O Box 180 Blue Ridge Road North Hudson, NY 12855 phone: 800-232-5349 email: office@paradisepine.com
Located in the beautiful Adirondack Mountains along the Schroon River. Luxury New camping cabins in and around the beautiful Jellystone Park Resort Campgound setting are just what you are looking for. Our easy access to all the Adirondack attractions and the serenity of our relaxing resort makes your stay with us the perfect combination. Some resort amenities include multi playgrounds, mini-golf, snack bar, bike & boat rentals, laundry facilities, pool & sandy beach riverfront. Activities are provided to our guests daily if they chose to partake. For those looking for relaxation and serenity sit by the campfire in front of your cabin. 750' off I-87 exit 29.




Moreno's Cottages In the Heart of the Adirondacks Ray Brook, NY 12977 phone: (734)242-3605 email: djanteau@provide.net Featuring 10 fully furnished cottages with kitchenetts and picnic areas, offering reasonable family rates. Close to all area attractions!




Mountain View Inn - 140 Main St., Lake Placid, NY, Phone: 1-800-499-2439
Quality mountain and lakeview rooms in the heart of the Olympic Village. Walking distance to shopping and restaurants; adjacent to the Olympic Center. AAA & Mobile Guide approved. Family owned and operated.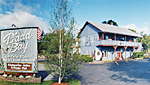 Placid Bay Inn "on Lake Placid" - 70 Saranac Avenue, Lake Placid, NY, Phone/Fax (518) 523-2001
Our Pictureque Inn is located right on Lake Placid with comfortably appointed rooms, kitchenettes, suites, and cottages. Make us your "Adirondack Country Home Away From Home". We offer an outdoor pool, canoes, paddle boat, outdoor lounging area and Fly Fishing Guide Service/School. We have year-round packages for your enjoyment and savings. See our website for details on packages we offer and online reservations.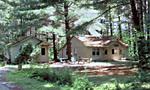 River Ranch Cabins
HC-2 Box 14 Wilmington, NY 12997
Phone:(518) 946-7978
The River Ranch Cabins are seasonal cabins open from May to October in the heart of the Adirondacks. Perfect spot for Ausable River fisherman. Our 2 cabin full capacity provides the ideal, peaceful, sun dappled wooded setting for a quiet getaway or for a private, family and small group reunions.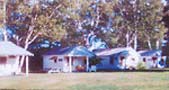 Rowe's Lake Breeze Cottages
1328 US HWY 9 PO Box 9, Schroon Lake, NY 12870
Phone: (518)532-7298
Our cottages are located one mile north of the quaint hamlet of SCHROON LAKE, which is centrally located between Lake George, Lake Placid, Gore Mountain, and Whiteface Mountain. We are open from Memorial Day through Columbus Day. So, kick your feet up and relax at Rowe's Lake Breeze Cottages. We are pet friendly, so you may bring your pet, as well. The free public beach, shops, restaurants, churches, movie theatre, tennis court, basketball court, and boat launch are just one short mile south of Rowe's Lake Breeze Cottages in the Town of Schroon Lake. There is a restaurant which is open for breakfast, lunch and dinner; a country store (groceries, gift items, deli, gas, ATM, etc.); and a hiking trail within walking distance. The marina (boat rentals) is just 1/2 mile away. Experience the Adirondacks! Tour the chasms of Ausable and the area museums. Visit the nearby golf courses or attend an opera or show. Enjoy a leisurely day at the lake, an exhilarating hike to a mountain top, bike riding, river rafting, and sports activities galore. In our cottages, you will find fully equipped kitchens. Pots and pans, microwaves, toasters, coffee makers, linens and towels are provided for your convenience. Barbecue grills and picnic tables are available for your summer use. We look forward to your visit!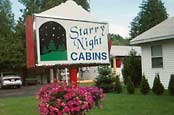 Starry Night Cabins
We offer you fully equipped one and two bedroom housekeeping cabins. Pots and pans, linens, and towels are provided for your convenience. A wood stove fireplace adds to the Adirondack experience in winter (wood provided). Barbecue grills and picnic tables are here for your summer use. Select cabins have microwave, full bath with tub and/or private screened-in porch. Efficiencies and motel rooms are available. We look forward to being your hosts. For information and reservations, just give us a call at (518) 532-7907. Hope to see you, your family and friends soon at the Starry Night Cabins.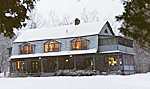 Trail's End Inn
HC01 Box 103, Keene Valley, New York 12943 - (518) 576-9860 or 800-281-9860
A romantic 1902 Adirondack lodge nestled in New York's Keene Valley amid soaring mountain peaks. This rustic, romantic, and secluded bed & breakfast inn is ideally located for all season activities as hiking, canoeing, fishing, whitewater, bicycling, horseback riding, golf, tennis, swimming, bird watching, rock climbing, and more.


CROWN POINT, NY

Champlain Shores - (no web site available)

JAY, NY

Fourpeaks--Adirondack Camps & Guest Barns
1829 Stone House Road, P.O. Box 76, Jay NY 12941 - 518-946-7313
5 private Adirondack Camps on 700 acres in the High Peaks, 6 miles from Whiteface. 2 Guest Barns on 42-acre riverview farm. A family vacation in a wilderness setting!

Don's Hideaway Lodges - (no web site available)

Mountain View Farm - (no web site available)

KEENE, NY

Mountain Manor - (no web site available)

Pine View Cottages -(no web site available)

KEENE VALLEY, NY

Pinewood Guest Cottage -(no web site available)

Trail's End Inn
HC01 Box 103, Keene Valley, New York 12943 - (518) 576-9860 or 800-281-9860

LAKE PLACID, NY

Cobble Mt. Lodge- (no web site available)

The Evergreens - (no web site available)

Placid Bay Inn "on Lake Placid" - 70 Saranac Avenue, Lake Placid, NY, Phone/Fax (518) 523-2001

Mt. Van Hoevenburg Bed & Breakfast and Cottages
(no web site available)

Mountain View Inn - 140 Main St., Lake Placid, NY, Phone: 1-800-499-2439

Whispering Pines - (no web site available)

MINERVA, NY

Morningside Camps & Cottages - (no web site available)

NORTH HUDSON, NY

Elk Lake Lodge - (no web site available)

Red Top Diner & Cabins -(no web site available)

Camping Cabins at Yogi Bear's Jellystone Park -Paradise Pines
P O Box 180 Blue Ridge Road North Hudson, NY 12855 phone: 800-232-5349

PORT HENRY, NY

Craig Harbor Canyon - (no web site available)

Family Fun Cabins - (no web site available)



RAY BROOK, NY


Moreno's Cottages Ray Brook, NY 12977 phone: (734)242-3605



SARANAC LAKE, NY


Ampersand Bay Boat Club16 Ampersand Bay Road , Saranac Lake, NY 12983
(518) 891-3001

British Soldiers Camps 6 Cliff Road, Saranac Lake, NY 12983 - (518) 891-1439

Cochrans Cabins 303 Kiwassa Road, Saranac Lake, NY 12983
(518) 891-5721

Mallard Hill Cottages (no website available)

SCHROON LAKE, NY

Calmbacher Cottage - (no web site available)

Captain's Rest Housekeeping Cottages - (no web site available)

Car-Michael's - (no web site available)

Chamlar Lodge & Cottages -(no web site available)

Davis Motel & Cottages - (no web site available)

Dun Roamin Cabins - (no web site available)

Elm Tree Cabins & Motel - (no web site available)

Hawk Hollow Cottages - (no web site available)

Kish Duna Motel & Cottages - ((no web site available)

Rainbow Motel & Cottages - (no web site available)

Rawlins Motel & Cottages - (no web site available)

Rowe's Lake Breeze Cottages 1328 US HWY 9 PO Box 9, Schroon Lake, NY 12870 Phone: (518)532-7298

Schroon Lake Place - (no web site available)

Seagle Colony Cottages - (no web site available)

Sunderland Housekeeping Cottages - (no web site available)

Terra Alta - (no web site available)

Willford 4 Season Rentals - (no web site available)

SEVERANCE, NY

Lake Paradox Club - (no web site available)

Laymond Cottages - (no web site available)

North Woodlands Cottages - (no web site available)

TICONDEROGA, NY

BJ Davis - (no web site available)

WESTPORT, NY

Barber Homestead Cabins - (no web site available)

Bradamant Corp. Cottages - (no web site available)

WILLSBORO, NY

Champlain Angler Lodge - (no web site available)

WILMINGTON, NY

Everest Place at Whiteface - (no web site available)

Ham's Shangri-La Chalet - (no web site available)

Huntington Motel & Cottages - (no web site available)

River Ranch Cabins HC-2 Box 14 Wilmington, NY 12997 Phone:(518) 946-7978

Wilderness Inn II - (no web site available)