Warren County offers a wide variety of accomodations to suit every taste.
To select a town, please scroll down our alphabetical list or click on to the indexes below for the town you wish to stay in.


All Lodging Search Lake George
Stop here first for great deals on hotels in Lake George, New York. Compare our Lake George, New York hotel rates and save up to 50%! Guaranteed low rates. Book online now!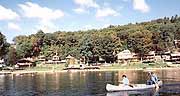 Trout House Village Resort - 9117 Lakeshore Drive: Hague, NY 12836 phone: (518) 534-6088 or 1-800-368-6088. email: thv@capital.net OPEN ALL YEAR, Trout House is nestled on the northern shores of Lake George in the tiny village of Hague. The resort features luxurious Log Cabin Chalets (some with jet tubs), a nine bedroom Country Inn, cottages and motel. We offer complimentary bicycles, rowboats, canoes, kayaks, paddle boats, fishing and swimming on 400' of sandy beach. Winter activities include cross-country skiing, snow shoeing, ice skating, and tobogganing. Downhill skiing is available near by. Join us for a vacation to remember for years to come.

BRANT LAKE, NY
Briarcliff Lodges - (518) 494-4319
CHESTERTOWN, NY
Friends Lake Inn - (518) 494-4751
Panther Mountain - (518) 494-2401
DIAMOND POINT, NY
Canoe Island Lodge - (518) 668-5592
HAGUE, NY
Trout House Village Resort - (518) 543-6088
LAKE GEORGE, NY
Alpine Village Resort - (518) 668-2193
Hill of Happiness - (518) 668-2066
Adirondack Diamond Point Lodge - (518) 668-5429
NORTH CREEK, NY
Gore Mountain Lodge - (518) 251-3444
NORTH RIVER, NY
Toags Lodge - (518) 251-2496
OLD FORGE, NY
Mountain Side Lodge - (315) 357-4371
Timberlane Lodge - (315) 369-3485
QUEENSBURY, NY
Econo Lodge - (518) 793-3491
Susse Chalet Motor Lodge - (518) 793-8891
WARRENSBURG, NY
Glen House Lodge - (518) 494-7478
North Country Lodge - (518) 623-2162
White House Lodge - (518) 623-3640
WEAVERTOWN, NY
Mountainaire Adventures - (518) 251-2194

Calendar of Events | Vacation Rentals | Real Estate | Lodging & Accomodations
Dining | Summer Sports | Winter Sports | Arts & Crafts | Attractions | Shopping
Adirondack Kids | Adirondack Lifestyles | Business Profiles | Business Directory | Classifieds
Meet Our Sponsors | Adirondack History | Chat Room | Return Home


43 Broadway
Saranac Lake, New York 12983
Phone: 518-891-3745 Fax: 518-891-3768
E-Mail: AdirondacksOnline.com
This website is owned and operated by
adirondacksonline.com internet publishing group.
For advertising and editorial content,
please contact Rob Grant;
adirondacks.com reserves the right to reject,
modify or cancel any advertising at its sole discretion.
© AdirondacksOnline.com - all rights reserved
adirondacks, new york guide, adirondack mountains, Lake Placid, NY, lake placid resources, restaurants, real estate, lodgings, accomodations, canoeing, new york fishing, NY hiking, skiing, biking, ski, snow, attractions, events, New York Businesses