Warren County offers a wide variety of accomodations to suit every taste.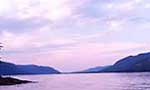 Blue Water Manor - 4436 Lake Shore Drive Diamond Point, NY 12824 Phone:1-800-299-8938 or (518) 644-2535 email: mail@bluewatermanor.com Cabins, cottages, Rooms & Resort with meals on the Lake. From a "boat&breakfast" to weddings in our restaurant. Blue water manor on the Lake offers it all. For reservations or more information, please call:1-800-299-8938 or (518) 644-2535.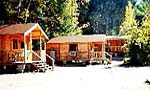 Camping Cabins at Yogi Bear's Jellystone Park -Paradise Pines
P O Box 180 Blue Ridge Road North Hudson, NY 12855 phone: 800-232-5349 email: office@paradisepine.com
Located in the beautiful Adirondack Mountains along the Schroon River. Luxury New camping cabins in and around the beautiful Jellystone Park Resort Campgound setting are just what you are looking for. Our easy access to all the Adirondack attractions and the serenity of our relaxing resort makes your stay with us the perfect combination. Some resort amenities include multi playgrounds, mini-golf, snack bar, bike & boat rentals, laundry facilities, pool & sandy beach riverfront. Activities are provided to our guests daily if they chose to partake. For those looking for relaxation and serenity sit by the campfire in front of your cabin. 750' off I-87 exit 29.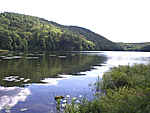 Daggett Lake Campground
660 Glen Athol Road, Warrensburg, NY 12885 518-623-2198
The Quiet Campground: Nestled in the Adirondacks on 400 acres of mountains, fields, streams, and a beautiful private lake. Quiet and remote, yet only minutes from Lake George. "Completely quiet at night, strictly enforced, unique park is away from all major roads and is very quiet. Large level private sites, a lot of space between sites. Great hiking trail around lake." -- Anderson's 1999 Campground and RV Park Travel Directory. Pet friendly housekeeping cottages available.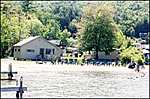 Diamond Cove Cottages
P.O. Box 363 Diamond Point, NY 12824 518-668-3161
Email: DiamondCoveCotgs@aol.com
Diamond Cove is located directly on the beautiful shores of Lake George. Our private sandy beach offers spectacular views of Lake George and the surrounding mountains. We offer lakeside cottages and efficiency rooms. We are a family orientated resort with activities for everyone, including basketball, fishing piers, badmiton, shuffleboard, ping pong, a playground, rowboats, kayaks and canoes. Boat docking and launching are located on our premises and available exclusively to our guests. Diamond Cove is located 3 miles from the Village of Lake George and just a short drive from many area attractions, including The Great Escape, Lake George Cruise Ships, Rodeo Shows, Antiquing, Museums and much more.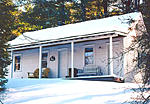 Dillon Hill Cabins
P.O. Box 72 Wevertown, NY 12886 518-251-2912
E-mail: cabins@dillonhill.com Adirondack Cabins nestled in the picturesque hamlet of Wevertown located in the Southern Adirondacks just minutes from Gore Mountain and Lake George. Escape to the Adirondacks with Dillon Hill Cabins. Open year round each cabin features knotty pine walls in the family area, stone fireplaces, and hand stenciled bedrooms furnished with antiques and decorated with care.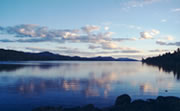 Hide-A-Way Cottages
138 Hidden Valley Rd
Lake Luzerne, NY 12846
518/696-2248
Website: http://www.hideawaywaterfrontcottages.com
The HIDE-A-WAY on Lake Vanare, beneath cool towering pines.
Enjoy the free use of rowboats and canoes on a clean and quiet lake surrounded by forested mountains.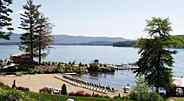 The Lodges at Cresthaven 3210 Lake Shore Drive · Lake George, NY 12845 Tel. 518.668.3332 · Res. 800.853.1632 · Fax. 518.668.0324 Cresthaven's Lake George cabins rest on thirteen landscaped acres reflect the resort's elegant history. Part of the former estate of George Foster Peabody and later Adolf S. Ochs, the legendary publisher of the New York Times, the property features original stone walls and bridges. Ancient trees surround the natural wood architecture of this beautiful Adirondack resort. The cabins are spacious, yet cozy, designed in classic Adirondack style, and are fully equipped with appliances, central air conditioning and heat. The hand-peeled logs, rustic ambiance, and stunning views from our Lake George lodges combine the elegance of resort life with the comfort of a country inn.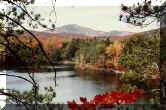 Sheltered Lakes Adirondack Cabins and Cottages
Sheltered Lakes 1124 Pike Brook Road Clemons, NY 12819 Phone: (518) 499-1929 email: mail@ShelteredLakes.com
Located in the Adirondack Mountains of New York Nestled between Lake George & Lake Champlain on the New York - Vermont border Four hundred acres of woods, mountains, and water, with six private cottages, each with its own kitchen, fireplace and mountain lake views in the heart of the Adirondacks of New York...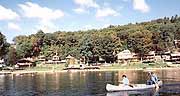 Trout House Village Resort - 9117 Lakeshore Drive: Hague, NY 12836 phone: (518) 534-6088 or 1-800-368-6088. email: thv@capital.net OPEN ALL YEAR, Trout House is nestled on the northern shores of Lake George in the tiny village of Hague. The resort features luxurious Log Cabin Chalets (some with jet tubs), a nine bedroom Country Inn, cottages and motel. We offer complimentary bicycles, rowboats, canoes, kayaks, paddle boats, fishing and swimming on 400' of sandy beach. Winter activities include cross-country skiing, snow shoeing, ice skating, and tobogganing. Downhill skiing is available near by. Join us for a vacation to remember for years to come.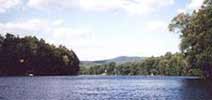 Whispering Pines Cottages
365 East River Drive
P.O. Box 471 Lake Luzerne, NY 12846
Phone: (518) 654-2123 Fax: (518) 654-2123
Email: whispers@sdar.net
The best kept secret in the Adirondacks!

Whispering Pines Cottages 900 feet of waterfront on the Mighty Hudson River.


The Lodges at Cresthaven
3210 Lake Shore Drive
Lake George, NY 12845
800-853-1632

Diamond Cove Cottages & Motel
3648 Lake Shore Drive
Diamond Point, NY 12824
518-668-3161

Treasure Cove Resort
3940 Lakeshore Drive
Diamond Point, NY 12824
(518) 668-5334

Boulders Resort and Cabins
3036 Lake Shore Dr
Lake George, NY 12845
518-668-5444

Chelka Lodge
4204 Lake Shore Drive
Diamond Point, NY 12824
(518) 668-4677

Sun Castle Resort On Lake George
3178 Lake Shore Drive
Lake George, NY 12845
518-668-2085

Blue Water Manor / Stone Manor Restaurant
4436 Lake Shore Drive
Diamond Point, NY 12824
1-800-299-8938

Contessa Resort, Restaurant & Marina
5102 Route 9N
Bolton Landing, NY 12814
518-644-5921

Marine Village Resort
370 Canada Street
Lake George, NY 12845
(800) 727-7090

Trout House Village
9117 Lakeshore Drive
Hague, NY 12836
(800) 368-6088

Kastner's On The Lake
188 Hidden Valley Road
Lake Luzerne, NY 12846
(518) 696-2715


Shallow Beach Cottages
4580 Lake Shore Drive
Bolton Landing, NY 12814-0236
518-644-9608

Antigua Resort
27 Antigua Road
Lake George, NY 12845
518-668-2556

Cramer's Point Motel & Cottages
3382 Lake Shore Drive
Lake George, NY 12845
518-668-2292


Hearthwaters Lakefront Motel and Cabins
1315 Lake Avenue
Lake Luzerne, NY 12846
518-696-5485


Lake Vanare's Cabins
1331 Lake Avenue
Lake Luzerne, NY 12846
518-696-2197


Tall Pine Tree House
3062 Lakeshore Dr (9N)
Lake George, NY 631-878-6303

Stonehaven Guest House
125 Mannix Road
Queensbury, NY 12804
518-761-6677

The Mayfair Resort
Lake Shore Drive
Bolton Landing, NY 12814
(518) 644-5681

Glen Moore Lodge
330 Glen Lake Road
Lake George, NY 12845
518-792-5261

Blue Lagoon Resort
3670 Lake Shore Drive
Diamond Point, NY 12824
51-668-4867

The Juliana Resort
3842 Lake Shore Drive
Diamond Point, NY 12824
518-668-5191

Painted Pony Ranch
746 Howe Road
Lake Luzerne, NY 12846
518 696 5353

Lake Side Cottage on Harris Bay
Duncan Cove Lane
Cleverdale, NY 12820
518-668-2511

Atateka Lodges
393 Atateka Drive
Chestertown, NY 12817
518-494-2768

Lake George Lakefront House and Cottage
3 Tuttle Lane
Lake George, NY 12845
315-655-9674



Calendar of Events | Vacation Rentals | Real Estate | Lodging & Accomodations
Dining | Summer Sports | Winter Sports | Arts & Crafts | Attractions | Shopping
Adirondack Kids | Adirondack Lifestyles | Business Profiles | Business Directory | Classifieds
Meet Our Sponsors | Adirondack History | Chat Room | Return Home


43 Broadway
Saranac Lake, New York 12983
Phone: 518-891-3745 Fax: 518-891-3768
E-Mail: AdirondacksOnline.com
This website is owned and operated by
adirondacksonline.com internet publishing group.
For advertising and editorial content,
please contact Rob Grant;
adirondacks.com reserves the right to reject,
modify or cancel any advertising at its sole discretion.
© AdirondacksOnline.com - all rights reserved
adirondacks, new york guide, adirondack mountains, Lake Placid, NY, lake placid resources, restaurants, real estate, lodgings, accomodations, canoeing, new york fishing, NY hiking, skiing, biking, ski, snow, attractions, events, New York Businesses