St. Lawrences County offers a wide variety of campgrounds to suit every taste.
Please scroll down the list to find a great place to stay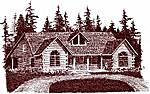 PACKBASKET ADVENTURES
P.O. Box 136 12 South Shore Rd. Ext. Wanakena, NY 13695 Ph/Fax: (315) 848-3488
email:info@packbasketadventures.com
The base for Packbasket Adventures is our lodge, located on the fabled Oswegatchie River, famous for its scenic beauty, remote wildness and fine sport. The river flows through Wanakena into Cranberry Lake, which has 40 of its 55 miles of shoreline State protected and waiting to be explored. Our newly constructed lodge consists of 4 bedrooms with private baths. Each room is finely appointed in the lodge style, making for a cozy return at the end of the day's adventure.

CRANBERRY LAKE, NY
Cranberry Lake Inn - (315) 848-3301 Wildcliffe Lodge -(315) 848-2140

WANAKENA, NY

PACKBASKET ADVENTURES
P.O. Box 136 12 South Shore Rd. Ext. Wanakena, NY 13695 Ph/Fax: (315) 848-3488




Calendar of Events |  Vacation Rentals |  Real Estate |  Lodging & Accomodations
Dining |  Summer Sports |  Winter Sports |  Arts & Crafts |  Attractions |  Shopping
Adirondack Kids |  Adirondack Lifestyles |  Business Profiles |  Business Directory |  Classifieds
Meet Our Sponsors |  Adirondack History |  Chat Room |  Return Home

adirondacks, new york guide, adirondack mountains, Lake Placid, NY, lake placid resources, restaurants, real estate, lodgings, accomodations, canoeing, new york fishing, NY hiking, skiing, biking, ski, snow, attractions, events, New York Businesses