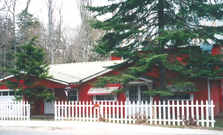 Adirondack Vacation Rental - Inlet, NY
Phone:(585)750-5501
email:jlangan@rochester.rr.com
Come enjoy a relaxing vacation in Inlet, NY with all the comforts of home!! Rental available from May 1st thru November 15th. Accommodates 6- Two Bedroom - 1 full bath Kitchen with all appliances Gas Grill TV Room w/ futons, color TV, cable and VCR Screened porch Less than 5 minute walk to: Public Beach, Grocery Store, Pizza Shop w/ video rental, Gift shops, and coffee shop 500' to Marina with dock, boat slip rentals and boat and canoe rentals NEW "Wood Hold" w/ restaurant and bar in town Access to hiking trails (near Rocky Point and Bold Mountain) Mountain biking trails and bike rentals Water access to all 4 lakes from Inlet to Old Forge.


BRANTINGHAM, NY
Twin Cottages - (315) 633-2344
BOONVILLE, NY
Gaslight Cottages - (315) 942-4811
EAGLE BAY, NY
Covewood Lodge - (315) 357-3041
Eagle Bay Villas - (315) 357-2411
Eagle's Nest Motor Inn - (315) 357-3898
Eagle Point Cottage - (315) 357-5198
Waldheim - (315) 357-2353
INLET, NY
Adirondack Vacation Rental - Inlet, NY Phone:(585)750-5501

Deer Meadows Motel & Housekeeping Cottages - (315) 357-3274
Nelsons Cottages - (315) 357-4111
LONG LAKE, NY
Green Harbor Motel & Cottages - (518) 624-4133
OLD FORGE, NY

Adirondack Rentals - (315) 369-6321
Alexander's Lakeside Cottages - (315) 357-5451
Bills Cottages - (315) 736-6507
Big Rock Cottages - (315) 369-3713
Brynilsen's Viking Village - (315) 357-3150
Camp Merry - (315) 369-6366 or 724-7759
Diegis Cottages - (315) 369-3835
The Fulton House - (315) 369-6626
Holiday Shores Estates - (315) 357-4251
Hylas Four Season - (315) 369-6779
Indian Point Cottages - (315) 369-3179 or (813) 357-0445
The Kenmore - (315) 357-5285
Lakeview - (315) 735-9730 or 369-3617
Le Bon Air - (315) 369-3053
Ledgers Lakefront Cottages - (315) 357-5342
Moose Country Cabins - (315) 369-6447
Narrows Cottages - (315) 369-6458
Palmer Point - (315) 357-5594
Pine Knoll Motel & Cottages - (315) 369-6740
Richard Knight Rentals - (315) 369-6242
Timberlane Lodge - (315) 369-3485
Village Cottages - (315) 369-3432
White Lake Cottages - 315) 392-3493
Raquette LAKE, NY
Burke's Marina & Cottages - (315) 354-4623