Hamilton County offers a wide variety of accomodations to suit every taste.
Please scroll down the list to find a great place to stay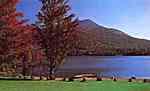 Prospect Point Cottages
Blue Mountain Lake, NY - (518) 352-7378
Charming housekeeping cottages on Blue Mountain Lake. On the water, breathtaking views, private beach, screened-in porches, fully equipped kitchens, Cable TV, phones. swimming , hiking, fishing, boating - the perfect family retreat!


Calendar of Events |  Vacation Rentals |  Real Estate |  Lodging & Accomodations
Dining |  Summer Sports |  Winter Sports |  Arts & Crafts |  Attractions |  Shopping
Adirondack Kids |  Adirondack Lifestyles |  Business Profiles |  Business Directory |  Classifieds
Meet Our Sponsors |  Adirondack History |  Chat Room |  Return Home

adirondacks, new york guide, adirondack mountains, Lake Placid, NY, lake placid resources, restaurants, real estate, lodgings, accomodations, canoeing, new york fishing, NY hiking, skiing, biking, ski, snow, attractions, events, New York Businesses