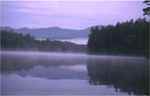 Lapland Lake Nordic Vacation Center
139 Lapland Lake Rd, Northville (Town of Benson), NY 12134 E-mail: vacation@laplandlake.com phone:
518-863-4974 Adirondack Splendor, Finnish Hospitality for 25 years! Four-season vacation center conveniently located in the southern Adirondacks. Ten immaculate tupas (cottages) with up to four bedrooms, living room, fully equipped kitchen, bath, woodstove, electric heat. Pristine springfed lake with sandy beach. Swim, fish, canoe. 50km private trails for hiking, mountain biking. Nationally recognized X-C ski center owned and operated by Olympian Olavi Hirvonen and his family. PSIA lessons, rentals. Snowshoe, tube, ice-skate, kicksled. Restaurant open December-March. Authentic Finnish sauna. Domesticated reindeer! (photo by Jeff Nadler)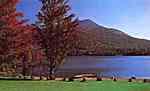 Prospect Point Cottages
Blue Mountain Lake, NY - (518) 352-7378
Charming housekeeping cottages on Blue Mountain Lake. On the water, breathtaking views, private beach, screened-in porches, fully equipped kitchens, Cable TV, phones. swimming , hiking, fishing, boating - the perfect family retreat!



BENSON, NY
Lapland Lake X-C & Vacation Center - (518) 863-4974
BLUE MOUNTAIN LAKE, NY
Curry's Cottages - (518) 352-7354
LaPrairies's Lakeside Cottages - (518) 352-7675 or 7306
Prospect Point Cottages - Charming housekeeping cottages on Blue Mountain Lake. On the water, breathtaking views, private beach, screened-in porches, fully equipped kitchens, Cable TV, phones. swimming , hiking, fishing, boating - the perfect family retreat!. (518) 352-7378
Steamboat Landing - (518) 352-7323
HOPE, NY
Cottages - (518) 924-7908
INDIAN LAKE, NY
Burke's Cottages - (518) 648-5258
Camp Driftwood - (518) 648-5111
Campbell's Cottages - (518) 648-5174
Chief Sabael Cottages - (518) 648-5200
Galusha's Cottages - (518) 648-5365
Indian Lake Motel - (518) 648-5859
Indian Ridge Chalet - (518) 648-5340
Lake Francis - (518) 648-5520
Lake Francis Cottages - (518) 648-5127
Lake Front - (215) 493-1791
Larson's Cedar Haven - (518) 648-5171
McCormacks Cottages - (914) 623-3079
Point Breeze Motel & Cottages - (518) 648-5555
Sandy Beach Camp - (518) 648-5406
Smith's Cottages - (518) 648-5222
Snowshoe Hill Cottages - (518) 648-5207
Twin Coves - (518) 648-5332
INLET, NY
Arthur's Accommodations - (315) 357-6635
Bamberger Cottages - (315) 357-3413
Blarney Point - (315) 357-5292
Clayton's Cottages - (315) 357-3394
The Crosswinds - (315) 357-4500
Deer Meadows Motel & Cottages - (315) 357-3274
Drakes Cottages - (315) 357-5181
Gribneau Getaway - (315) 357-5177
Harvey's 4th Lake Cottages - (315) 357-3565
Hazens Lakeside Cottages - (315) 357-2121
Nelson's Cottages - (315) 357-4111
North Star Motel - (315) 357-4131
Payne's Cottages - (315) 357-3971
Ramblers Lodge - (315) 357-4961
Red Ski Lodge - (315) 357-3883
Stiefvaters Motel & Cottages - (315) 357-2222
Sunset Beach Cottage - (315) 357-2692
The Willis Lodges - (315) 357-3904
Wood Holme - (315) 357-2161
LAKE PLEASANT, NY
Ambrust Cabins - (518) 548-4765
Little Island Cottage - (518) 548-3845 or (315) 354-5866
Pleasant View - (201) 891-0225 or (201) 891-5924
Water's Edge Lakeside Cottages & Motel - (518) 548-6031
Wilbur's Cottages - (518) 548-8115
LONG LAKE, NY
Emerson Cottages - (518) 624-4344
Green Harbor Motel & Cottages - (518) 624-4133
Journey's End Cottages- (518) 624-5381
Lakeside Cottage - (518) 624-3692
Long View Lodge - (518) 624-2862
Marina Cottages - (518) 624-3371
Motel Long Lake & Cottages - (518) 624-2613
Mt. View Farms B & B - (518) 624-2521 or 800-724-0905
Shamrock Motel & Cottages - (518) 624-3861
Shaw Brook Cottages - (518) 624-3351
Water's Edge Cabins - (518) 624-5825
PISECO, NY
Half Moon Beach - (518) 548-6002
Irondequoit Inn - (518) 548-5500
Joslin Cottages - (518) 548-8607
Pleasant Manor - (518) 548-7640
RAQUETTE LAKE, NY
Burke's Cottages - (315) 354-4623
Camp Windy Snow - (607) 967-2221
Cottage on Raquette Lake - (315) 354-5706
Cummings Cove Cottages - (315) 354-5783
The Loft - (315) 354-5532
Mildred Dillon Cottages - (315) 354-4201
Paley's Cottages - (315) 354-4530
Plunkett's - (315) 354-5294
Risley's Rush Point - (315) 354-5211 or 429-9239
SPECULATOR, NY
Bearhurst -(518) 548-6427
Pleasant Pines Cottages -(518) 548-6421
Village Motel -(518) 548-7021
WELLS, NY
Duffy's Lakeside Cottages -(518) 924-9207