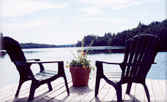 Ampersand Bay Boat Club
16 Ampersand Bay Road , Saranac Lake, NY 12983 (518) 891-3001
Ampersand Bay Resort & Boat Club is located on the eastern shores of Lower Saranac Lake and is home to the best view in the Adirondacks. Lodging at Ampersand Bay includes a variety of accommodations, and they all share our 40 wooded acres and 1000+ feet of Lake Frontage. There are hand-hewn cedar log cabins, charming cottages, three large suites directly on the lake, studio rooms, and six individual knotty pine rooms in the Heron Creek Boathouse. All cabins, cottages and suites have kitchens and cable color tv.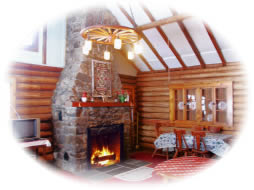 Emerald Springs Ranch- Cabin and Woodland Home Saranac Lake, NY - (518) 891-3727
Located in the center of the Northern Adirondack Mts. Ideally situated for enjoying everything the Mts. have to offer. Genuine Adirondack Log cabin has rustic appeal and warm old fashioned atmosphere. Charming, and delightful! Cable TV & VCR. Modern heating system. Woodland Home offers privacy and seclusion.High speed internet access available in Woodland Home.Both furnished with clean towels, clean bedding, basic cooking and eating utensils. Well kept, clean, and comfortable; an enjoyable and economical alternative.


Charlies Inn - Lake Clear, NY - (518) 891-9858
Located on the Main Corridor Trail #7 - HEADQUARTERS IN THE ADIRONDACKS MOUNTAINS FOR FUN! Call for your accommodations today.


Cochrans Cabins - 1150 Kiwassa Lake Road, Saranac Lake, NY 12983 - (518) 891-5721, Email: douglas@northnet.org
Adirondack cabins on over 20 private, wooded acres on Lake Kiwassa which has water access to Oseetah Lake, Lake Flower and the Saranac Chain of Lakes. Each housekeeping cabin has a kitchen, wood burning stove, screened porch and private docks. Boats and canoes available,Open year-round. 3.5 miles south of the village and cabin prices range from $500 - $975 weekly. Fishing Packages available.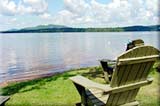 Hohmeyer's Lake Clear Lodge - 518-891-1489
email: TheLodge@Northnet.org
Junction Routes 186 & 30 Lake Clear, New York 12945
The Lodge at Lake Clear offers a wide variety of accommodations to suit every taste. Relax and enjoy the great outdoors in comfort and style! Choose from our Adirondack Chalets & Cozy Cottages, Lakeview Suites or Residences. Many of our accommodations have fireplaces, kitchens and double jacuzzi baths. The Lodge's 25 acres offer our guests complete privacy on the shores of pristine Lake Clear. Visit our Adirondack/German Dining Room and Bierkeller, where a cozy fire, European Family Heirlooms and Adirondack artifact blend with the Pioneer Spirit of the Adirondacks. The Lodge is located just 8 miles from Saranac Lake, rated #1 Small Town in New York and 20 miles from the Olympic Village of Lake Placid and Tupper Lake.



The Wawbeek on Upper Saranac Lake
Turn of the century "Great Camp" and restaurant with unsurpassed lake and mountain views. Accomodations include the six-bedroom Mountain House Lodge with wraparound porch and balconies; individual cabins and cottages, private sand beach, boats and canoes, docks, bikes, tennis courts on our 40 acres with 1400 feet of shoreline on Upper Saranac. Open year-round with snowshoeing, cross-country skiing, and ice fishing from our doorstep. "The Wawbeek's restaurant is one of the best in the Adirondack Park" - The Adirondack Book - (800) 953-2656 or (518) 359-2656
British Soldiers Camps
6 Cliff Road, Saranac Lake, NY 12983 - (518) 891-1439
From your secluded cottage stroll to the 'forever wild' lake, McKenzie, where a canoe awaits you. Our forested cabins are a haven of tranquility, conveniently located just three minutes to the village of Saranac Lake, 10 minutes to Lake Placid. Each camp is fully equipped. We are mindful that your vacation days are precious, and we strive to enhance your Adirondack experience by the completeness of our furnishings. We hope you have a wonderful holiday at British Soldiers Camps.

Adirondack Camp Colby Cabins
241 Glenwood Drive
Saranac Lake, NY 12983
(518) 891-9583

Annie's Cabin
Oregon Pond, Box 44
Onchiota, NY 12989
(518) 891-0911

Bombard's Rustic Cabins
32 Brunswick Road
Saranac Lake, NY 12983
(800) 238-0208 or (518) 891-0208

Dusty's Hideaway
1729 State Route 86
Saranac Lake, NY 12983
(518) 891-3959

Emerald Spring Ranch
651 State Route 186
Saranac Lake, NY 12983
(518) 891-3727

End-O-Lake Cottage
Lower Chateaugay Lake
Brainardsville
518-425-3549


Hillman's Cottages
Lake Colby Drive
Saranac Lake, NY 12983
(518) 891-2263


Mallard Hill Cottages
P.O. Box 669, Route 3
Saranac Lake, NY 12983
(518) 891-1213


Mt. Morris View Cottage
2713 St. Rt. 30
Tupper Lake, NY 12986
(518) 359-3286

Northwood Cabins
2775 State Route 30
Tupper Lake, NY 12986
(800) 727-5756 or (518) 359-9606

Peebles Indian Lake Cottages
Box 184
Owls Head, NY 12969
(518) 483-7469 or (514) 626-7857

Quinn Cottage
Little Wolf Lake
Tupper Lake, NY 12986
(239) 793-6701 (Nov-May), (585) 554-3135 (June-Oct

Ray & Anita's Cottages
Route 458
St. Regis Falls, NY
(518) 856-9394

Rockledge Cabins
Route 30 South
Lake Clear, NY 12945
(518) 891-9685

Roe's Cottage
1 Little Wolf Road
Tupper Lake, NY 12986
(518) 899-2265


St. Regis Falls Scenic Campsites & Cabins
P.O. Box 289
St. Regis Falls, NY 12980
(518) 856-9820 or (518) 856-9482

Trailside Cabins
County Route 27
Owls Head, NY 12969
(518) 483-4872