Branch Farm Bed and Breakfast on the shores of Lake Flower
25 Branch Farm Road, Saranac Lake, NY - (518) 891-0869 e-mail: bfbb@capital.net
Lodging in the Beautiful Adirondack Mountain Region on the site of a lakeside farm. Located on the west shore of Lake Flower near the historic village of Saranac Lake. Full Breakfast, Family Room with firweplace, Large Screened Porch, Boating and Fishing nearby. Hiking, Skiing and Golf are all very close too!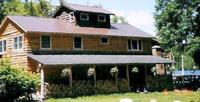 Cochran's Kiwassa Lake Bed & Breakfast
1150 Kiwassa Lake Road, Saranac Lake, NY 12983 - (518) 891-5721, Email: douglas@northnet.org
Cochran's Bed and Breakfast offers a pristine setting on Kiwassa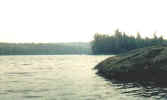 Lake far from the hustle and bustle of daily life. Take a canoe, relax on the dock or simply join us for a night or two. The Bed and Breakfast bedrooms, bathroom and separate kitchen are conveniently located upstairs in their own private setting away from the main quarters of the Cochran's home on the edge of the lake. Prices range from $95-$200/night.





The Doctor's Inn
Trudeau Road, RR 01, Box 375, Saranac Lake, NY, 12983. 1-888-518-3464 (toll free), 518-891-3464. E-mail docsinn@northnet.org.
Join us for your Adirondack Experience! Located at the base of Mt. Pisgah and a short stroll away from Saranac Lake. Once home to physicians of the world famous Trudeau Sanatorium, now a spacious and welcoming Adirondack Bed and Breakfast. The Doctor will provide you a quiet and restorative retreat to come home to whatever you get up to during the day.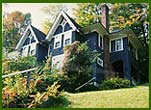 Fogartys Bed & Breakfast This historic cure cottage built in 1910, overlooks Lake Flower and faces Mts. Pisgah, Baker and MacKenzie. It is within walking distance of downtown Saranac Lake, and close to ski areas. - Saranac Lake, NY - (518) 891-3755




The Loon Lake B&B
Plan your Adirondack Vacation with our Bed & Breakfast in mind! Your choice of an Adirondack style cabin suitable for 2 with kitchen and bathroom or the "lake view room" with 4 twin beds and an excellent view of the lake. For $195/night. Contact Fran & Ben LaVorandos,
Box 161 HCI, Loon Lake, New York 12989 Phone: 518.891.4562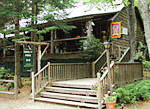 Sunday Pond B & B
HC 1, Box 150 - Route 30 Saranac Lake, New York 12983 Phone: 518-891-1531
email: info@sundaypond.com
Enjoy Summer, Winter, Spring and Fall with us - in the heart of the Northern Adirondacks. Experience the scent of balsam, the haunting cry of the loon and the tranquility of nature in a comfortable rustic setting near Saranac Lake, New York. Hearty Adirondack Breakfast & Dinner Comfortable Home Away From Home, whether on Vacation or a Business Trip Large Family Room with Fireplace From our Front Door: Hiking Cross-Country Skiing Canoeing in the nearby St. Regis Wilderness Area Convenient to Saranac Lake, Tupper Lake and Lake Placid Business Services Available.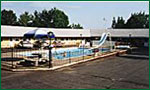 Tupper Lake Motel
259 Park Street, Tupper Lake, NY 12986 - (518) 359-3381 - (800) 944-3585 - Fax (518) 359-8549
Rest and Relax at The Tupper Lake Motel. We offer the Finest Accommodations along with a Swimming Pool, Continental Bed and Breakfast, In-room Coffee Machines, Refrigerators, HBO Movies, Cable TV, In room phone with separate connection for computer modem connection, Fax Service. Nearby are many attractions along with boating, fishing, hiking, skiing and so much more!Room packages available for Canoeing, Horseback Riding, Snowmobiling, Skiing, Golfing, and so much more!

Cochran's B&B
1150 Kiwassa Lake Road
Saranac Lake, NY 12983
(518) 891-5721

Fire House Bed & Breakfast
Route 11
North Bangor, NY 12966
(518) 481-6426


Fogarty's Bed & Breakfast
74 Kiwassa Road
Saranac Lake, NY 12983
(800) 525-3755 or (518) 891-3755


Jordan Cottage Bed & Breakfast
317 Park Avenue
Saranac Lake, NY 12983
(518) 891-9998

Kilburn Manor Bed & Breakfast
59 Milwaukee Street
Malone, NY 12953
(800) 454-5287 or (518) 483-4891


Patriot House Bed & Breakfast
254 Kiwassa Road
Saranac Lake
(518) 891-7314


Sunday Pond Bed & Breakfast
5544 State Route 30
Saranac Lake, NY 12983
(518) 891-1531


The Porcupine Manor
350 Park Avenue
Saranac Lake, NY 12983
(518) 891-5160


The Three Pillars
1361 State Route 30
Tupper Lake, NY
(518) 359-3093 or (914) 948-1650 (winter)