All Hotel Search Lake Placid
Stop here first for great deals on hotels in Lake Placid, New York. Compare our Lake Placid, New York hotel rates and save up to 50%!. Book online now!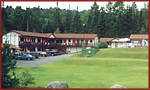 Alpine Air Motel
99 Saranac Ave. Lake Placid, NY
phone: 518-523-9261 800-469-3663
Lake Placid, NY 12946
Family-owned & operated, providing personal service and quality accommodations. All rooms have color/cable TV, complimentary coffee, heat and AC, telephones and private baths. Meeting and waxing room available. XC skiing nearby, ski packages. Please no pets. Children under 13 stay free with adult. Office open 8am to 11pm. Dates of Operation: Year-round Amenities: Online Reservations, Credit Cards Accepted, Outdoor Pool, Summer Packages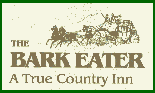 The Bark Eater Inn and Stables
P .O. Box 139 Alstead Hill Road, Keene, NY 12942
Phone: 518-576-2221 Fax 518-576-2071
Email: info@barkeater.com Originally a stagecoach stopover, The Bark Eater has been in operation since the early 1800's. The atmosphere still reflects these early times. The farmhouse, with its wide board floors, stone fireplaces, and rooms filled with antiques compliments its natural setting. Famous for its food, the inn's style is refreshing country gourmet. Included with the room is a hearty country breakfast hosted by Joe Pete Wilson, a former Olympic and World Competitor. Our stables offer horseback riding year round, and groomed cross country trails in the winter. Nestled in the heart of the Adirondacks and only minutes from Lake Placid's Olympic Region. The Bark Eater is a place to relax and enjoy your vacation.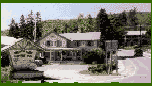 Brookside Motor Inn
1 Springfield Rd Upper Jay, NY 12987
Tel. 518-946-8369
We offer comfortable clean 2 bedroom suites at reasonable prices. Includes two separate bedrooms, 2 full baths, a fully equipped kitchen, living room and cable TV. Located on the east branch of the Ausable River in Upper Jay, NY., in a quiet village setting. Close to hiking and fishing in the spring and summer months and skiing at White Face Mountain and ice climbing in the winter months. 25 minutes from Lake Placid. Pets welcome($5/day). Laundry facilities on premises. Weekly rates available. Email: brooksidemotorinn@charter.net or Tel. 518-946-8369. Your hostess, Marlene Prescott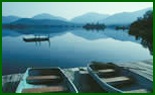 Elk Lake Lodge
Elk Lake Road, North Hudson, NY
Phone:518-532-7616
Email: info@elklakelodge.com
Described by National Geographic as "the jewel of the Adirondacks," Elk Lake is a 12,000-acre wilderness resort in the heart of the High Peaks. 40 miles of private trails, two lakes offering canoeing, swimming and fishing for trout or landlocked salmon. Turn-of-the-century lodge and private cottages. Note: Rates are per person, per night, Modified American Plan with Dinner and Breakfast included.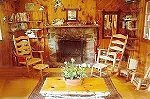 Fourpeaks--Adirondack Backcountry Camps
Email: http://4peaks.com/frmemail.htm Phone: 518-524-6726
Stonehouse Road, P.O. Box 76, Jay NY 12941 (Lake Placid--17 miles.) 6 Backcountry Cabins on 700 acres with 4 mountains. Secluded wilderness vacations in the High Peaks of New York's 6-million acre Adirondack Park. 20 miles of private hiking/skiing trails. AuSable River swimming/floating/fishing. A romantic getaway--private nature retreat. Authentic Adirondack furnishings. Fireplaces. Full kitchens. Pet-friendly. Visit our award-winning website at 4peaks.com for photos, maps, activities and detailed descriptions. 400+ pages big, it's a virtual Adirondacks. "Here's a vacation you won't forget!"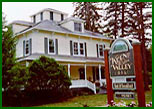 Keene Valley Lodge
Route 73, PO Box 701, Keene Valley,NY 12944
Phone: 518-576-2003
Historic 7 room (most with private baths) Bed & Breakfast located in the center of the High Peaks village of Keene Valley. Convenient to Great Range trailheads, rock and ice climbing, cross country skiing locally as well as restaurants and shops.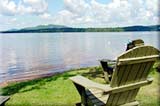 Hohmeyer's Lake Clear Lodge - 518-891-1489
email: TheLodge@Northnet.org
Junction Routes 186 & 30 Lake Clear, New York 12945
The Lodge at Lake Clear offers a wide variety of accommodations to suit every taste. Relax and enjoy the great outdoors in comfort and style! Choose from our Adirondack Chalets & Cozy Cottages, Lakeview Suites or Residences. Many of our accommodations have fireplaces, kitchens and double jacuzzi baths. The Lodge's 25 acres offer our guests complete privacy on the shores of pristine Lake Clear. Visit our Adirondack/German Dining Room and Bierkeller, where a cozy fire, European Family Heirlooms and Adirondack artifact blend with the Pioneer Spirit of the Adirondacks. The Lodge is located just 8 miles from Saranac Lake, rated #1 Small Town in New York and 20 miles from the Olympic Village of Lake Placid and Tupper Lake.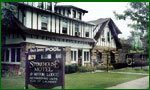 Stone House Motor Lodge -429 Montcalm Street Ticonderoga, New York 12883, Phone: (518) 585-7394
email:flnatcg@aol.com . From our antique furnished rooms in the main lodge, to our king-sized bedrooms with fireplaces in our shaker-shingled building, we offer every convenience.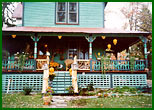 Paradox Lodge
76 Saranac Ave, Lake Placid, NY 12946
Phone: 518-523-9078 toll Free: (877) 743-9078
Built in 1899 and located on Paradox Bay on Lake Placid lake, Paradox Lodge provides a quiet and comfortable atmosphere for guests. Four rooms are available on a year round basis, each decorated in its own unique style featuring handmade Adirondack furniture, antiques, beautiful quilts, ceiling fans, down comforters and plenty of down pillows. (All rooms have private bath.) On the main floor there is a comfortable living room where guests may lounge and relax before having dinner in the dining room. The menu features delicious food and a large selection of wines. (The dining room is open to the public and reservations are recommended.) A large covered front porch with wicker chairs is a nice place to watch the setting sun or you may prefer to sit down by the lake and enjoy the view of Whiteface Mountain. Kayaks and mountain bikes are also available for use.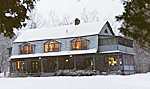 Trail's End Hikers/Skiers Lodge
HC01 Box 103, Keene Valley, New York 12943 - (518) 576-9860 or 800-281-9860
A romantic 1902 Adirondack lodge nestled in New York's Keene Valley amid soaring mountain peaks. This rustic, romantic, and secluded bed & breakfast inn is ideally located for all season activities as hiking, canoeing, fishing, whitewater, bicycling, horseback riding, golf, tennis, swimming, bird watching, rock climbing, and more.
---

Maple Leaf Inn
518-523-2471
Lake Placid


Swiss Acres Inn
518-523-3040
800-464-4690
Lake Placid


Porcupine Manor
518-891-5160
Saranac Lake


The Whiteface Lodge
518-523-3400
800-523-3387
Lake Placid


Cobble Mountain Lodge
518-523-2040
Lake Placid


Cascade Motor Inn
518-523-2130
Lake Placid


Brooks Sunshine Cottage B&B and Apartments
518-523-3661
Lake Placid


Harbor Hill Cottages
518-891-2784
Saranac Lake


Interlaken Inn
518-523-3180
800-428-4369
Lake Placid


Alpine Inn
518-523-2180
Lake Placid


Comfort Inn on Lake Placid
518-523-9555
800-858-4656
Lake Placid


Jackrabbit Inn
518-523-0123
800-584-7006
Lake Placid

Mountain View Inn
518-523-2439
800-499-2668
Lake Placid


Prague Motor Inn
518-523-3410 (Phone & Fax)
Lake Placid


Lake Placid Summit Hotel/Resort and Suites
518-523-2587
800-790-8452
Lake Placid


Northwoods Inn of Lake Placid
518-523-1818
800-509-8140
Lake Placid


Town House Lodge by the Lake
518-523-2532
Lake Placid


Town & Country Motor Inn
518-523-9268
Lake Placid

Trails End Inn
518-576-9860
800-281-9860
Keene Valley


Wildwood on the Lake
518-523-2624
Lake Placid


Placid Bay Inn "On Lake Placid"
518-523-2001
Lake Placid


South Meadow Farm Lodge
518-523-9369
800-523-9369
Lake Placid


Spruce Lodge B&B
518-523-9350
800-258-9350
Lake Placid


Hilton Lake Placid Resort
518-523-4411
800-755-5598
Lake Placid


Lake Placid Lodge
518-523-2700
Lake Placid


Keene Valley Lodge
518-576-2003
Keene Valley


Paradox Lodge
518-523-9078
877-743-9078
Lake Placid


Bark Eater Inn, The
518-576-2221
800-232-1607
Keene


High Peaks Hostel
518-523-4951
Lake Placid


Saranac Club and Inn
518-891-7212
866-595-9800
Saranac Lake


Keene Valley Ausable Inn
518-576-9986
Keene




ELIZABETHTOWN, NY
Deer's Head Inn - (no web site available)
ESSEX, NY
The Essex Inn -(no web site available)
JAY, NY
Fourpeaks--Adirondack Camp & Guest Barn
1829 Stone House Road, P.O. Box 76, Jay NY 12941 - 518-946-7313, Fax 518-946-7314
Private Adirondack Camp on 700 acres in the High Peaks, 6 miles from Whiteface. Guest Barn on 42-acre riverview farm. Your 4-Season Adirondack Getaway!
Stonehouse Farm Lodge - (no web site available)
KEENE, NY
Adirondack Rock & River -(no web site available)

The Bark Eater Inn and Stables P .O. Box 139 Alstead Hill Road, Keene, NY 12942
Phone: 518-576-2221


KEENE VALLEY, NY
Pinewood Guest Cottage - (no web site available)
Trail's End Hikers/Skiers Lodge - Keene Valley, NY - (518) 576-9860 or 800-281-9860


Keene Valley Lodge - Keene Valley, NY Route 73, PO Box 701, Keene Valley ,NY 12943 phone- (518) 576-2003


Keene Valley Ausable Inn -(no web site available)


LAKE PLACID, NY
Adirondack Loj - (no web site available)

Alpine Air Motel
99 Saranac Ave. Lake Placid 518-523-9261 or 800-469-3663


Camp Solitude West Shore - (no web site available)
Lake Placid Lodge - (no web site available)
Lysek's Hillcrest Inn -(no web site available)

Paradox Lodge76 Saranac Ave, Lake Placid, NY 12946
Phone: 518-523-9078 toll Free: (877) 743-9078


MINERVA, NY
Minerva Hill Lodge - (no web site available)
SARANAC LAKE, NY
Favro's Oseetah Lake Lodge - (no web site available)
SCHROON LAKE, NY
Woods Lodge -(no web site available)
Word of Life Inn - (no web site available)
TICONDEROGA, NY
UPPER JAY, NY
Ark & Constitution Trail Inn -(no web site available)
High Peaks Base Camp (no web site available)
The Brookside Motor Inn Springfield Road, Upper Jay, New York, 12987 - (518) 946-8369
WESTPORT, NY
The Westport Hotel (no web site available)

WILMINGTON, NY
The Bunkhouse Lodge - (no web site available)
Steinhoff's Sportsman Inn -(no web site available)