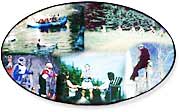 Adirondack Vacation Adirondack Bed and Breakfasts of the North Country
If you are looking for a relaxing Adirondack vacation, we have compiled a list for your convenience. When visiting the Adirondacks, we know your trip will be enhanced if you choose one of the following lodging facilities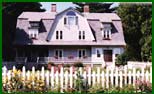 All Tucked Inn 53 South Main St. (Rt. 22), P.O. Box 324, Westport, NY 12993 Phone: 1-888-ALL-TUCK.Between the pristine peaks of the Adirondack Mountains and the serene shores of Lake Champlain there is a magical, whimsical place where troubles flee and peace presides. ALL TUCKED INN , located in the historical village of Westport, provides nine lovely rooms, many with lake view and fireplace, all with sparkling private bath. A bountiful breakfast is included and a wonderful dinner is available. Whatever the season, ALL TUCKED INN is the perfect place to stay when you want to discover all that the Adirondacks of New York and the Green Mountains of Vermont have to offer.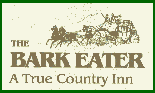 The Bark Eater Inn and Stables
P.O. Box 139 Alstead Hill Road, Keene, NY 12942
Phone: 518-576-2221 Fax 518-576-2071
Email: info@barkeater.com Originally a stagecoach stopover, The Bark Eater has been in operation since the early 1800's. The atmosphere still reflects these early times. The farmhouse, with its wide board floors, stone fireplaces, and rooms filled with antiques compliments its natural setting. Famous for its food, the inn's style is refreshing country gourmet. Included with the room is a hearty country breakfast hosted by Joe Pete Wilson, a former Olympic and World Competitor. Our stables offer horseback riding year round, and groomed cross country trails in the winter. Nestled in the heart of the Adirondacks and only minutes from Lake Placid's Olympic Region. The Bark Eater is a place to relax and enjoy your vacation.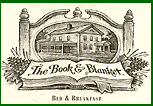 The Book & Blanket Bed & Breakfast
PO Box 164, Route 9N, Jay, NY 12941 Phone: 518-946-8323 email: bookinnjay@aol.com1850's style Greek Revival brimming with books for borrowing and browsing. 3 guestrooms devoted to Jack London, Jane Austen and F.Scott Fitzgerald provide extra roomy accommodations. Set in Adirondack Hamlet complete with Village Green and swimming hole. Minutes to High Peaks and Lake Placid.




Branch Farm Bed and Breakfast on the shores of Lake Flower
25 Branch Farm Road, Saranac Lake, NY - (518) 891-0869 e-mail: bfbb@capital.net
Lodging in the Beautiful Adirondack Mountain Region on the site of a lakeside farm. Located on the west shore of Lake Flower near the historic village of Saranac Lake. Full Breakfast, Family Room with firweplace, Large Screened Porch, Boating and Fishing nearby. Hiking, Skiing and Golf are all very close too!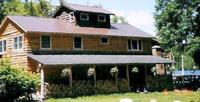 Cochran's Kiwassa Lake Bed & Breakfast
1150 Kiwassa Lake Road, Saranac Lake, NY 12983 - (518) 891-5721, Email: douglas@northnet.org
Cochran's Bed and Breakfast offers a pristine setting on Kiwassa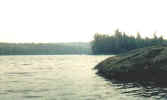 Lake far from the hustle and bustle of daily life. Take a canoe, relax on the dock or simply join us for a night or two. The Bed and Breakfast bedrooms, bathroom and separate kitchen are conveniently located upstairs in their own private setting away from the main quarters of the Cochran's home on the edge of the lake. Prices range from $95-$200/night.




The Doctor's Inn
Trudeau Road, RR 01, Box 375, Saranac Lake, NY, 12983. 1-888-518-3464 (toll free), 518-891-3464. E-mail docsinn@northnet.org.
Join us for your Adirondack Experience! Located at the base of Mt. Pisgah and a short stroll away from Saranac Lake. Once home to physicians of the world famous Trudeau Sanatorium, now a spacious and welcoming Adirondack Bed and Breakfast. The Doctor will provide you a quiet and restorative retreat to come home to whatever you get up to during the day.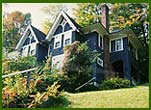 Fogartys Bed & Breakfast Saranac Lake, NY - (518) 891-3755 This historic cure cottage built in 1910, overlooks Lake Flower and faces Mts. Pisgah, Baker and MacKenzie. It is within walking distance of downtown Saranac Lake, and close to ski areas.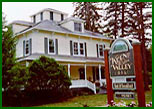 Keene Valley Lodge
Route 73, PO Box 701, Keene Valley,NY 12944
Phone: 518-576-2003
Historic 7 room (most with private baths) Bed & Breakfast located in the center of the High Peaks village of Keene Valley. Convenient to Great Range trailheads, rock and ice climbing, cross country skiing locally as well as restaurants and shops.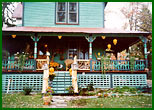 Paradox Lodge
76 Saranac Ave, Lake Placid, NY 12946
Phone: 518-523-9078 toll Free: (877) 743-9078
Built in 1899 and located on Paradox Bay on Lake Placid lake, Paradox Lodge provides a quiet and comfortable atmosphere for guests. Four rooms are available on a year round basis, each decorated in its own unique style featuring handmade Adirondack furniture, antiques, beautiful quilts, ceiling fans, down comforters and plenty of down pillows. (All rooms have private bath.) On the main floor there is a comfortable living room where guests may lounge and relax before having dinner in the dining room. The menu features delicious food and a large selection of wines. (The dining room is open to the public and reservations are recommended.) A large covered front porch with wicker chairs is a nice place to watch the setting sun or you may prefer to sit down by the lake and enjoy the view of Whiteface Mountain. Kayaks and mountain bikes are also available for use.



Silver Spruce Inn B&B
Route 9 P.O. Box 426 Schroon Lake, NY, 12870. 518-532-7031. email: info@silverspruce.com
Adirondack elegance at its best. Restored mid 1820's 16 acre executive retreat, antiques, grand common areas, imposing fireplaces, sun porch, garden grove and gazebo. Outstanding accommodations each with a private bath. Home cooked country breakfast. Convenient to camps, lakes and wilderness. Smoke Free. Open Year Round.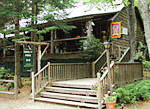 Sunday Pond B & B
HC 1, Box 150 - Route 30 Saranac Lake, New York 12983 Phone: 518-891-1531
email: info@sundaypond.com
Enjoy Summer, Winter, Spring and Fall with us - in the heart of the Northern Adirondacks. Experience the scent of balsam, the haunting cry of the loon and the tranquility of nature in a comfortable rustic setting near Saranac Lake, New York. Hearty Adirondack Breakfast & Dinner Comfortable Home Away From Home, whether on Vacation or a Business Trip Large Family Room with Fireplace From our Front Door: Hiking Cross-Country Skiing Canoeing in the nearby St. Regis Wilderness Area Convenient to Saranac Lake, Tupper Lake and Lake Placid Business Services Available.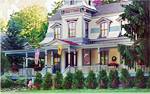 The Victorian Lady Bed & Breakfast
6447 Main St. Westport, N.Y. 12993 Phone (518) 962-2345 Reservations: 1-877-829-7128
The Victorian Lady , circa 1856, is a unique blend of three different architectural styles. All facilities have been modernized, extensive gardens added, and each room painstakingly furnished with antiques and period furniture and beautifully decorated. All guest rooms have cable TV and are air conditioned. Now, the "Lady" welcomes guests who wish to share the elegance and romance of a bygone era.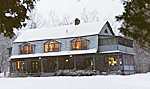 Trail's End B&B
HC01 Box 103, Keene Valley, New York 12943 - (518) 576-9860 or 800-281-9860
A romantic 1902 Adirondack lodge nestled in New York's Keene Valley amid soaring mountain peaks. This rustic, romantic, and secluded bed & breakfast inn is ideally located for all season activities as hiking, canoeing, fishing, whitewater, bicycling, horseback riding, golf, tennis, swimming, bird watching, rock climbing, and more.



Essex County
Bed & Breakfasts
Crown Point
Harwood Homestead Bed & Breakfast
Ironville Section
697 Creek Road
Crown Point, NY 12928
(518)597-3429

Sugar Hill Manor Bed & Breakfast
225 Sugar Hill Road
P.O. Box 143
Crown Point, NY 12928
(518)597-9545


Crown Point Bed & Breakfast
(The Wyman House)
P.O.Box 490 Main St.(Rt.9N)
Crown Point, NY 12928
(518)597-3651
SAVE UP TO 50% ON LAKE PLACID HOTELS
Elizabethtown
Deer's Head Inn
PO Box 485
Elizabethtown, NY 12932
(518)873-9903
Old Mill Studio
136 River
Elizabethtown, NY 12932
(518)873-2294
Stoneleigh Bed & Breakfast
Water
Elizabethtown, NY 12932
(518)873-2669
Essex
Lakeview House
Lake Shore Road
Essex, NY 12936
(315)495-5031

Cabins By The Lake
Begg's Point, Lake St
Essex, NY 12936
(518)963-7374
Essex House B&B
Route 22
Essex, NY 12936
(518)963-7739
The Essex Inn
Main Street
Essex, NY 12936
(518)963-8821
Little Brick House
Orchard Street
Essex, NY 12936
(518)963-4199
Sunburst Tea Garden B&B
PO Box 126
Essex, NY 12936
(518)963-7482
The Stone House
PO Box 43
Essex, NY 12936
(518)963-7713
Jay
The Book and Blanket
Bed & Breakfast
Rt 9N P.O.Box 164
Jay, NY 12941
(518)946-8323

Keene
Bark Eater Inn
Alstead Mill Road
Keene, New York 12942
(518)576-2221
Keene Valley
High Peaks Inn
PO Box 701
Keene Valley, NY 12943
(518)576-2003
Trails End Inn
HC01 Box 103
Keene Valley, New York 12943
(518)576-9860

SAVE UP TO 50% ON HOTELS IN SARATOGA!
Keeseville
Bosworth Tavern
Rt 9/Mace Chasm Rd
Box 177
Keeseville, NY 12944
(518)834-5401

Lake Placid
Adirondack Loj
Heart Lake
Lake Placid, NY 12946
(518)523-3441
Blackberry Inn
59 Sentinel Rd
Lake Placid, NY 12946
(518)523-3419
Blue Moon Bed & Breakfast
337 Old Military Rd
Lake Placid, NY 12946
(518)523-9622
Edge Of The Lake
56 Saranac Ave
Lake Placid, NY 12946
(518)523-9430
Highland House Inn
3 Highland Pl
Lake Placid, NY 12946
(518)523-2377
Interlaken Inn
15 Interlaken Ave.
Lake Placid, NY 12946
(518)523-3180 or (800)428-4369
Lake Placid Lodge
Whiteface Inn Road
P.O. Box 550
Lake Placid, NY 12946
(518)523-2700
Mirror Lake Inn
5 Mirror Lake Drive
Lake Placid, NY 12946
(518)523-2544
Mountain Hearth Inn
338 Old Military Rd
Lake Placid, NY 12946
(518)523-1114
Mt. Van Hoevenberg
Bed & Breakfast...and Cottages
Route 73, HCR01 Box 37
Lake Placid, NY 12946
(518)523-9572
Placid Bay Inn
& Placid Bay Ventures
70 Saranac Avenue
Lake Placid, NY 12946
(518)523-2001
South Meadow Farm Lodge
Hc 1 Box 44
Lake Placid, NY 12946
(518)523-9369
Spruce Lodge Bed & Breakfast
31 Sentinel Road
Lake Placid, NY 12946
(518)523-9350 or (800)258-9350
The Cat'n Fiddle Bed & Breakfast
47 Sentinel Rd.
Lake Placid, NY 12946
(518)523-9879 or (800)909-8626
The Stagecoach Inn
370 Old Military Rd
Lake Placid, NY 12946
(518)523-9474 or (800)520-9474
Olmstedville
O'Connor's Family Bed & Breakfast
P.O. Box 216
Olmstedville, NY 123857
(518)251-2259
Port Henry
Elk Inn
Hc 1
Port Henry, NY 12974
(518)546-7024
Kings Inn
109 Broad St
Port Henry, NY 12974
(518)546-7633
Severance
The Red House
PO Box 125
Severance, NY 12872
(518)532-7734
Schroon Lake
Warren's Inn
18 Leland Ave.
Schroon Lake, NY 12870
(518)532-9118

Schroon Lake Bed & Breakfast
RD #1, Box 274
Route 9
Schroon Lake, NY 12870
(518)532-7042
Silver Spruce Inn
P.O. Box 426
Schroon Lake, NY 12860
(518)532-7031
Wood's Lodge
East Street
Schroon Lake, NY 12870
(518)532-7529
Westport

All Tucked Inn
53 S. Main Rt 22 P.O.Box 324
Westport, NY 12993
(518)962-4400
The Gray Goose
42 N Main Street Box North
Westport, NY 12993
(518)962-4562
The Inn on the Library Lawn
PO Box 390
Westport, NY 12993
(888)577-7748 or (518)962-8666
The Victorian Lady
57 S Main St
Westport, NY 12993
(518)962-2345
Willsboro
1852 Inn B&B
277 Lake Shore Rd
Willsboro, NY 12996
(518)963-4075
Champlain Vistas
183 Lake Shore Rd
Willsboro, NY 12996
(518)963-8029
Wilmington
High Peaks Base Camp
PO Box 91
Springfield Road
Wilmington, NY 12997
(518)946-2133
Willkommen Hof
Rt 86, PO Box 240
Wilmington, NY 12997
(518)946-7669 or (800)541-9119