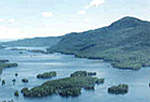 Adirondack Campground Association
Your guide to the best of Adirondack camping in New York State's Adirondack Mountains. The ACA is dedicated to the campgrounds and the sport of camping in the Adirondack Mountain Region of New York State. The Association works on behalf of privately-owned campgrounds open to the public, and is also dedicated to the advancement of the camping industry, its patrons, and its businesses.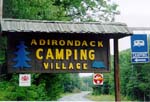 Adirondack Camping Village - P.O. Box 406, Lake George, NY 12845 Phone: 518-668-5226 ~ Fax: 518-668-4256
Email: info@adirondackcampingvillage.com
A family operated Campground located in the beautiful Adirondack Mountains at the northern edge of Lake George Village. Secluded, wooded campsites in a serene mountain setting, yet just a 3 minute drive from beautiful Lake George, and Lake George Village as well as many area attractions. Adirondack Camping Village offers campers an opportunity to enjoy the great outdoors while having some of the comforts of home..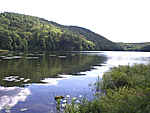 Daggett Lake Campground
660 Glen Athol Road, Warrensburg, NY 12885 518-623-2198
The Quiet Campground: Nestled in the Adirondacks on 400 acres of mountains, fields, streams, and a beautiful private lake. Quiet and remote, yet only minutes from Lake George. "Completely quiet at night, strictly enforced, unique park is away from all major roads and is very quiet. Large level private sites, a lot of space between sites. Great hiking trail around lake." -- Anderson's 1999 Campground and RV Park Travel Directory




Yogi Bear's Jellystone Park at Paradise Pines
P O Box 180 Blue Ridge Road North Hudson, NY 12855 phone: 800-232-5349
email: office@paradisepine.com
Yogi Bear @ Paradise Pines is a clean, friendly, family oriented camping resort. Our resort has NEW Cabins with bathrooms & kitchens, or new large campsites for any kind of camping equipment available for your family vacation. In addition to the cabin or campsite, many amenities are encompassed in the resort. Safety & Security. Rain or Shine always a GOOD TIME! Our picturesque setting along the Schroon River nestled between the High Peaks of the Adirondack Mountains is one of the most beautiful you have ever seen. Our easy access to all the Adirondack attractions and the serenity of our relaxing resort makes your stay with us the perfect combination. We offer theme weekends, DJ dances, daily activities & crafts for ages 3 to 103. Bring no food as our delicious snack menu including pizza delivered to your site will tide you over while doing important things like RELAXING with your family at the pool, or the waterfront or just moon gazing at the campfire. We are open from May 1st to October 20th. Pets are welcomed on a leash and attended to. Sorry no pets in our outside rental units. We offer special rates for early and late season campers.
Alpine Lake Camping Resort * - Corinth, NY - (518) 654-6260
Located halfway between Lake George & Saratoga on Rt. 9N. 475 full hook-up sites. A resort campground including tennis, movies, fishing, planned activities. Located on one of the most beautiful lakes in the Adirondacks. 2 swimming pools. View Map
Bakersfield East Campground * - Warrensburg, NY - (518) 623-9303 or 4124
Northway Exit 24 onto Schroon River Rd., south 2 miles. Home of the imported giant Redwood Log. 8 miles north of Lake George, large pool, store, laundry, showers, hiking trails, bikers welcome, wooded sites on 250 acres. View Map
Daggett Lake Campsite * - Warrensburg, NY - (518) 623-2198
Glen/Athol Rd., off Rt. 28. 60 private wooded sites on 720 acres, camper cabin, private lake, water skiing, boating, swimming, fishing, hiking and mountain biking trails, game room, hook-ups for tents and RV's. 15 minutes to Lake George. View Map
Eagle Point Campground (DEC) - Pottersville, NY - (518) 494-2220
Rt. 9, 2 miles North of Pottersville. Boating, Fishing, and Swimming are just a few of the activities available at this NY State run campground on Schroon Lake. There are both tent and trailer sites, as well as fully equipped bathrooms and bathhouses.
Evergreen Camping Resort * - Lake George, NY - (518) 623-3207
I-87 exit 23, east right 1/4 mile on Diamond Pt. Rd. Left on E Schroon River Rd. Family resort, 2 pools, river canoeing, onsite rentals, fishing, tennis, golf, tubing, full time recreation directors, sports fields, cable TV, volleyball, store, laundry, hayrides. Located on over 113 acres of woods and meadows on the Schroon River. View Map
Fuller Lakes Campground * - Corinth, NY - (518) 654-9445
Located off Rt. 9N. Minutes between Saratoga and Lake George. A small quiet campground offering an opportunity to "Get Away From It All" in a setting of natural beauty. Pool, pond, boating and fishing. View Map
Glen Hudson Campsite * - Warrensburg, NY - (518) 623-9871
Northway Exit 23 - left 1 block, right at Rt. 9, 1 mile to second traffic light, left onto Rt. 418, 3 miles right onto River Rd., 2 1/2 miles on river. Family camping, camp store, laundry, showers rec. hall dump station. River swimming, tubing, fishing, hiking. 1/2 hour to Lake George. View Map
Hearthstone Point Campground (DEC) - Lake George, NY - (518) 668-5193
Rt. 9N, 2 miles north of Lake George Village. This state run campground sits on beautiful Lake George, and has access to fishing, swimming and boating.
King Phillip's Campsites * - Lake George, NY - (518) 668-5763
Northway exit 21, 3/4 mile south on Rt. 9. Wooded and open sites, family oriented, pool, horseshoes, basketball, volleyball pavilion, 1 mile to Million Dollar Beach. 1 1/2 miles to Lake George Village. View Map
Lake George Battleground Campground (DEC) - Lake George, NY - (518) 668-3348
Rt. 9, 1/4 mile south of Lake George Village. This historical area, offers the opportunity to camp near beautiful Lake George, and get some history at the same time.
Lake George Schroon Valley * - Warrensburg, NY - (518) 494-2451
From I-87, Exit 24, go 50 yds. E, then 3/4 mile S. on Schroon River Rd. Scenic, family camping on the river. Store, modern restrooms, heated pool, rec. hall, arcade, playground, fishing, river tubing, weekend activities, laundry, LP gas. On site rentals. Seasonal sites. Tenters welcome. Near Lake George. View Map
Lake George KOA * - Lake George, NY - (518) 696-2615
I-87 Exit 21, 8 1/2 miles south on Rt. 9N. Pool, store, playground, free nightly movies. Stream fishing, camp under 100 ft. pines. Kamping Kabins. Full hookups, tenters welcome. Nearby: Lake George, Great Escape, white water rafting, rodeo's, factory outlets. View Map
Ledgeview RV Park, Inc. * - Lake George, NY - (518) 798-6621
Northway Exit 210, North 1/2 mile on Rt. 9 then East 1 1/2 miles on Rt. 149. Areas newest modern RV park. Convenient to Lake George Village, factory outlets and areas major attractions. We have 104 extra large, level wooded sites with 4 way hoop-ups. Pool, store, laundromat, playground, shuffleboard, rec. hall, free hot showers. View Map
Luzerne Campground (DEC) - Lake George, NY - (518) 696-2031
Rt. 9N, 8 miles southwest of Lake George Village. This beautifully located NY State owned campground, provides everything the camper could want, in a wonderfully tranquil setting.
Mohawk Camping on Lake George * - Lake George, NY - (518) 668-52760
Northway Exit 22, take 9N north 1 mile. Only private campground on Lake George. Closest to Village. Near Great Escape, sightseeing boats, Fort William Henry, etc. Private beach, store, laundromat, tent & RV sites. See our ad. Quality family type camping. View Map
Rainbow View * - Lake George, NY - (518) 623-9444
Northway Exit 23, 500 ft. on Rt. 9 Family oriented. Wooded, waterfront or semi-open sites. Large sandy beach, fishing, boating, recreation areas and hall. Free hot showers. Lake George Village 4 miles. All sites electric and water. Full hoop-ups available. View Map
River Road Campgrounds * - Corinth, NY - (518) 654-6630 or 654-9995
I-87 Exit 18 west to Corinth, right onto 9N North 2 miles, 82 acres of natural beauty on the pure Upper Hudson. Fishing, docks, launch, beach, pool, family activities, boat rentals. Golf, tennis horseback riding, hiking, white water rafting nearby. Rental trailers and cottages. View Map
Riverside Pines Campsites & Cabins * - Chestertown, NY - (518) 494-2280
Northway Exit 25, left on River Rd., 1/4 mile. Wooded sites, family oriented, sandy beach, rec. hall, restaurant, store, movies, tennis, bingo, boat rentals, dock space, cable TV. Full hookups. Near all Lake George attractions. View Map
Rogers Rock Campground (DEC) - Hague, NY - (518) 585-6746
Rt. 9N, 3 miles north of Hague. Picnicking, swimming, fishing and boating await you at Rogers Rock. State owned.
Scenic View Campground * - Bolton Landing, NY - (518) 644-2115
Rt. 9N one mile north of Bolton Landing. Beautiful wooded and open areas, located on a hill overlooking Lake George. Trailer rentals available, beautiful seasonal sites. Close to Lake George. View Map
Schroon River Campsites * - Warrensburg, NY - (518) 623-2171
I-87 Exit 23 to Warrensburg. Turn right at light to Horicon Ave., 3 miles to campground. full service, store, game room. Tiles showers and restrooms, LP gas, canoeing, tubing, sandy beach, heated pool, basketball, volleyball, baseball, movies, bingo, dances. View Map
Warrensburg Travel Park * - Warrensburg, NY - (518) 623-9833
I-87 Exit 23, west on Rt. 9 1/2 mile turn right at first traffic light. 4 miles north of Lake George Village. 140 wooded campsites on the Schroon River for tents, trailers and pop-ups. Beach and pool swimming. Tubing, fishing, rowboats and canoes. Large playground, game room, ping pong, clean restrooms, free hot showers, excellent bingo, special events, camp store, laundry. View Map
* Information provided by Campground Owners of New York (CONY)
For the complete CONY Directory, send $2.00 (postage handling) to: CONY, PO Box 497, Dansville, New York, 14434-0497
To return to "Camping", please Click Here