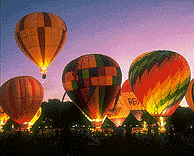 HOT AIR BALLOONING
Adirondack Balloon Flights
- PO Box 65, Glens Falls, New York 12801.
Email: balloon@netheaven.com. Join us in our 27th season of offering hot air ballon rides. Our flights offer magnificent views of the Lake George/Adirondack Mountain region.
Rates:$175.00 to $195.00
Hours: Apr-Nov, daily dawn to dusk by appt. Open year roundDiscounts: Group Rate/Incentives/Packages
Phone: 518-793-6342 Flying our brand new, state-of-the-art Peacock V balloon. The largest ride balloon in the northeast. Reservations required.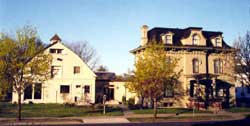 CHAPMAN HISTORICAL MUSEUM

348 Glen Street Glens Falls, NY
Phone (518) 793-2826 Fax (518) 793-2831Take a walk through southeastern adirondack history. Galleries, special exhibits, etc... Open year round. 518-793-2826.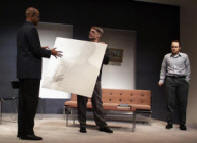 The Adirondack Theater Festival
(ATF) is a professional summer theater for the Northeastern United States, which had its inaugural season in 1995. The Festival produces two main-stage productions, one play and one musical, and supplements them with solo performers, cabaret, readings, and children's workshops between mid-June and early July. Performances are held in the Old Woolworth Building on Glen Street in Downtown Glens Falls. P.O. Box 3203 Glens Falls, NY 12801
Phone: (518) 798-7479 Fax: (518) 793-1334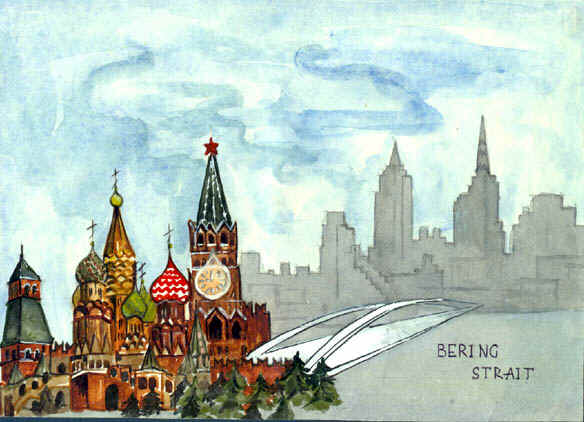 World Awareness Children's Museum
229 Glen Street - Lapham Place Entrance 3rd Floor Glens Falls, NY 12801 Phone: (518) 793-2773
The museum, which consists of changing interactive exhibitions based on children's art from around the world, acquired through our International Youth Art Exchange Program. Uniquely structured to be educational and fun, we feature hands-on exhibits and artifacts children can explore and touch with care. Admission is $2.00 per person, under 2 are free.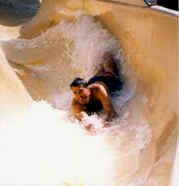 Skateland Family Fun Center & Aqua Adventure Water Slides
Queensbury, NY
Visit our Skateland Family Fun Center, for water slides, kiddie water play area, picnic area, etc. Call for schedule. 518-792-8989.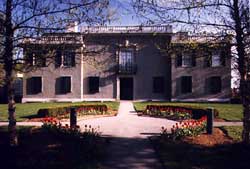 THE HYDE COLLECTION
Glens Falls, NY
A collection of European and American art, including works by Raphael, da Vinci, Rubens, Rembrandt, Renoir, and Picasso displayed in an 18th c. Florentine villa. 518/792-1761

------------------------------------------------------------------------------
Adirondack Golf & Bon's Ice Cream
530 Lake Ave
Rte 9N
Lake Luzerne, NY 12846
ADA Approved mini-golf. Completely handicapped accessible. Ice cream treats-sodas, cones etc.
518/696-2436
--------------------------------------------------------------------------------
Adirondack IceHawks Pro Hockey
1 Civic Center Plz
Glens Falls, NY 12801
Fast paced, hard hitting, bone crunching action of the United Hockey League. Group seating and special rates available. Professional Hockey at the Glens Falls Civic Center.
518/926-7825


--------------------------------------------------------------------------------
Adirondack/Glens Falls Transportation Council
Lake George, NY 12845
Our website has information videos about non-automobile modes of transportation in and around the Glens Falls-Lake George area.
518/746-2199


--------------------------------------------------------------------------------
Adventure Racing and Family Fun Center
1079 State Rte 9
Queensbury, NY 12804
Family fun center: lazer tag, go-carts, paint ball, kiddie track, arcade.
518/798-7860
------------------------------------------------------------------------------
City Hall Gallery - Glens Falls
42 Ridge St
Glens Falls, NY 12801
Rotating exhibits featuring local artists. Located in Glens Falls City Hall.
518/792-4649

--------------------------------------------------------------------------------
Davidson Brothers Restaurant & Brewery
184 Glen St
Glens Falls, NY 12801
Unique pub atmosphere in a completely restored bldg overlooking historic downtown. Only brew pub in NYS with an authentic brick kettle brew system imported from England. A family friendly restaurant. Open YR.
518/743-9026

--------------------------------------------------------------------------------
Fort William Henry Museum
Rte 9
Lake George, NY 12845
French & Indian War era (1755-57) Fort and site of the James Fenimore Cooper classic "The Last of the Mohicans". Group tours welcome.
518/668-5471


--------------------------------------------------------------------------------
Frances G Kinnear Museum
Main St
Lake Luzerne, NY 12846
Museum depicting local history in and around Lake Luzerne.
518/696-4520
--------------------------------------------------------------------------------
Fun Spot @ Skateland
1035 State Rt 9
Queensbury, NY 12804
In-line & quad roller skating; Laser tag Year Round; 3 1/2 story Waterslide; State of the Art go coart racing.
518/792-8989


--------------------------------------------------------------------------------
Glens Falls Feeder Canal Trail
Glens Falls & Queensbury
Glens Falls, NY 12801
Bicycling path along canal. Trail connects to Warren County Bikeway. Canoeing, kayaking.
518/792-5363


--------------------------------------------------------------------------------
Glens Falls Flight Center
Warren County Airport
Queensbury, NY 12804
Scenic airplane rides; 1/2 hr and 1 hr rides. Reservations required.
518/793-5605
--------------------------------------------------------------------------------
Gooney Golf/Haunted Castle
Rtes 9 & 9N
PO Box 526
Lake George, NY 12845
Fantasy theme mini golf course, featuring our giant T REX. Fun for the entire family. Open mid May to mid Oct.
518/668-2589
--------------------------------------------------------------------------------
Great Escape and Splashwater Kingdom
1172 State Rte 9
Lake George, NY 12845
Over 125 rides, shows, attractions including a full water park. 5 rollercoasters including the Boomerang Coast to Coaster, The Comet, Alpine Bobsled.
518/792-3500


--------------------------------------------------------------------------------
Greenjackets Football Team, Inc.
175 Dix Ave
East Field
Glens Falls, NY 12801
Semi-Professional Football Team; Charter member of Empire Football League. Games are played at East Field in Glens Falls.
518/793-0056


--------------------------------------------------------------------------------
Hayfield Quality Tours
10 Oakwood Dr
Queensbury, NY 12804
Full Service Receptive, Tour Operator, Professional Step-Ons, Meeting Planner. Specializing in Senior Tours, family, military, school reunions. Day and Overnight Packages; Itinerary Planning.
518/798-1253
888/721-8555


--------------------------------------------------------------------------------
House of Frankenstein Wax Museum
213 Canada St
Lake George, NY 12845
Animated exhibits along darkened hallways spring to life from the tales of Shelley, Stoker, Poe, Stevenson and many others, helping to stir your funfilled childhood fears!
518/668-3377


--------------------------------------------------------------------------------
Hyde Collection Art Museum
161 Warren St
Glens Falls, NY 12801
A collection of European and American art, including works by Raphael, da Vinci, Rubens, Rembrandt, Renoir, and Picasso displayed in an 18th c. Florentine villa.
518/792-1761


--------------------------------------------------------------------------------
Lake George Arts Project & Courthouse Gallery
310 Canada St
Old County Court House
Lake George, NY 12845
Located at old County Court House in Lake George. Rotating exhibits of local, regional and national artists.
518/668-2616


--------------------------------------------------------------------------------
Lake George Batting Cages
PO Box
Lake George, NY 12845
7 baseball cages, 5 softball cages. Coin operated. Ice cream stand and coffee shop.
518/668-2531
--------------------------------------------------------------------------------
Lake George Carriage Rides
Beach Rd
Lake George, NY 12845
Horse-drawn carriage rides.
518/668-4958


--------------------------------------------------------------------------------
Lake George Dinner Theatre
Rte 9
Holiday Inn-Turf
Lake George, NY 12845
This professional equity dinner theatre, celebrating its 36th season, performs popular comedies and musicals in an intimate setting at the newly renovated Holiday Inn Turf at Lake George. The show this year is the nostalgic comedy "Over The Tavern".
518/668-5781


--------------------------------------------------------------------------------
Lake George Historical Association Museum
Canada St
Lake George, NY 12845
Old Warren County court house. Local history, original courtroom and jail cells; Bookstore on premise.
518/668-5044
--------------------------------------------------------------------------------
Lake George Plaza Factory Outlet Center
State Rte 9
Lake George, NY 12845
Upscale designer factory outlet stores. Polo/Ralph Lauren, Coach, Bass, Dansk, Izod, Jones New York, Maidenform, Nautica, Perfumania, Lancome, Jones NY Country, PacSun, Harry and David
914/949-5030


--------------------------------------------------------------------------------
Lake George Shoreline Cruises
2 Kurosaka Lane
Lake George, NY 12845
All at one location; Shoreline Restaurant, King Neptune's Pub, U-Drive Boats and Waverunner Rentals, & Parasailing adventures.1 to 2 1/2 hour day and evening sightseeing, sunset, and entertainment cruises.
518/668-4644


--------------------------------------------------------------------------------
Lake George Steamboat Cruises
Steel Pier, Beach Rd
Lake George, NY 12845
3 cruise boats offering a variety of cruises on historic Lake George. The MINNE-HA-HA,The MOHICAN, and The LAC DU SAINT SACREMENT. A variety of Cruises including 1,2 & 4 hr cruise, lunch, dinner, and moonlight cruises.
518/668-5777
800/553-BOAT


--------------------------------------------------------------------------------
Lake George Village Trolley Rides
495 Queensbury Ave
Queensbury, NY 12804
Look for blue and white trolley signs throughout village. Stops every 30-35 minutes.
518/792-1085


--------------------------------------------------------------------------------
Lapham Art Gallery at LARAC
7 Lapham Place
Glens Falls, NY 12801
Gallery showcases local and regional artist and artwork. Changing exhibits.
518/798-1144


--------------------------------------------------------------------------------
Larac's Lapham Gallery
7 Lapham Pl
Glens Falls, NY 12801
Lower Adirondack Regional Arts Council (LARAC) art gallery featuring fine arts & crafts created by local artists and arts & crafts of intererst to lower Adirondack Community.
518/798-1144


--------------------------------------------------------------------------------
LGA's Floating Classroom
Rte 9N
Lake George, NY 12845
Two-hour educational program about Lake George. Participants will learn about its history and conduct experiments to assess the water quality.
518/668-3558


--------------------------------------------------------------------------------
Lumberjack Pass Mini Golf
Rte 9 & 149
Lake George, NY 12845
Unique 18-hole miniature golf course; Soft Ice Cream Shop. Located near Factory Outlet Shopping Centers.
518/793-7141


--------------------------------------------------------------------------------
Magic Castle Rides & Indoor Golf
275 Canada St
Lake George, NY 12845
Motion simulator, indoor mini-golf, 3-D Theater. Orbotron
518/668-3777
--------------------------------------------------------------------------------
Magic Forest
Rte 9
Lake George, NY 12845
Children's amusement park. 25 rides, 3 shows. Santa and his famous deer. Live animals; Low admission.
518/668-2448


--------------------------------------------------------------------------------
Mohican Trail
5 Warren St
Glens Falls, NY 12801
A driving tour through "The Heart of the Hudson-Champlain Corridor". Historical map booklet available at Adirondack Regional Chamber of Commerce.
518/798-1761
--------------------------------------------------------------------------------
Painted Pony Ranch-Rodeo
Route 9N
Painted Pony Ranch
Lake Luzerne, NY 12846
Come enjoy a night at the rodeo, barrel racing, team roping, texas barbecue, music, dancing and more.
518/696-2421


--------------------------------------------------------------------------------
Pirate's Cove Adventure Golf
1089 State Rte 9
Queensbury, NY 12804
Two 18-hole championship mini-golf. Putt through mountain caves, over foot bridges and under waterfalls.
518/745-1887
800/345-0595


--------------------------------------------------------------------------------
Pirate's Cove Lake George
2115 State Rte 9
Lake George, NY 12845
New miniature golf in Lake George. Brand new in 2001!
518/668-0493
800/345-0595


--------------------------------------------------------------------------------
Prospect Mountain Veterans Memorial Highway
Rte 9
Lake George, NY 12845
5.5 mi scenic highway. 100-mi view of the Adirondacks including beautiful Lake George region.
518/668-5198
--------------------------------------------------------------------------------
Pulp Mill Museum
Mill St
Lake Luzerne, NY 12846
Museum of industrial machinery, photos. Houses the first American made grinding machine made by Bagley & Sewell of Watertown.
518/696-2711
--------------------------------------------------------------------------------
Quik Flight, LLC
439 Queensbury Ave
Queensbury, NY 12804
On demand air charter serving the northeast for tourism, executive and leisure travel. Aircraft includes twin engine turbo prop and Citation II Jets.
518/793-7555


--------------------------------------------------------------------------------
Ridin-Hy Ranch & Rodeo
Sherman Lake
PO Box 369
Warrensburg, NY 12885
Sherman Lake, Warrensburg. Mid-May- Mid-June on Friday Nights. June 19 - Aug 28 - Tuesday nights, weather permitting. Jackpot rodeo features calf roping, team roping, barrel racing & steer wrestling.
518/494-2742
--------------------------------------------------------------------------------
Sacred Heart Church
50 Mohican Street
Lake George, NY 12845
See the history of Lake George area as depicted in stained glass windows of Sacred Heart Church.
518/668-2046
--------------------------------------------------------------------------------
Shoreline Cruises
2 -4 Kurosaka Lane
Lake George, NY 12845
5 cruise ships depart daily. Scenic, captain narrated cruises. Paradise BayCruise; Sunset Happy Hour; Moonlight Cruise, entertainment & fireworks.
518/668-4644


--------------------------------------------------------------------------------
Silo Country Store & Restaurant
537 Aviation Rd
Queensbury, NY 12804
Breakfast, Lunch & Dinners
518/798-1900
--------------------------------------------------------------------------------
Sutton's Market Place
1066 Rte 9
Glens Falls, NY 12801
Country Store, Clothing Boutique, Furniture Store, Toy Store, Bakery and Restaurant.
518/798-1188
800/379-5252


--------------------------------------------------------------------------------
Terrace Room Dinner Theatre
384 Canada St
Lake George, NY 12845
200-seat dinner theatre overlooking Lake George. Located at The Georgian Resort.
518/668-5401
800/525-3436


--------------------------------------------------------------------------------
Tubby Tubes Company
Route 9N
Lake Luzerne, NY 12846
Lazy river tubing on the Hudson River in Lake Luzerne. Four great trips offered daily.
518/696-5454


--------------------------------------------------------------------------------
Visual Arts Gallery of Adirondack Community College
640 Bay Rd
Dearlove Hall
Queensbury, NY 12804
Changing exhibitions and concerts from September to June. Call for exhibit/concert information. No admisson charge.
518/743-2328
--------------------------------------------------------------------------------
Wagar's Confectionery
327 Canada St
Lake George, NY 12845
Free candy tasting tour featuring our homemade candy, 10% off on candy purchases.
518/668-3770


--------------------------------------------------------------------------------
Warren County Fish Hatchery
145 Fish Hatchery Rd
Warrensburg, NY 12885
Rainbow and brook trout. Video, self-guided tours, picnicking.
518/623-2877
--------------------------------------------------------------------------------
Warren County Historical Society
71 Lawrence Street
Glens Falls, NY 12801
Our Mission: Collect & preserve historical artifacts and archival materials and documents; Assist in locating and designating historical sites; Provide support for researchers and historians.
518/743-0734


--------------------------------------------------------------------------------
Warrensburg Museum of Local History
3797 Main St
Warrensburg, NY 12885
Filled with antique jewelry, clothing, furniture and quilts. Local War artifacts and displays of "famous locals."
518/562-3292 x8
--------------------------------------------------------------------------------
Water Slide World
2136 Rte 9
Lake George, NY 12845
12-acre waterpark, over 35 waterslides, attractions and services. Includes 600,000-sq ft wave pool, lazy river tube ride, toddlers' area, activity pool, sand and water volleyball, picnic pavilion.
518/668-4407
--------------------------------------------------------------------------------
Wild West Ranch & Western Town
Bloody Pond Rd
Lake George, NY 12845
"An 1800's Ranch Experience". Horseback riding, wagon and pony rides, petting zoo; Wild West Show & Saloon, shops and ice cream parlor. Open Year Round. Free admission.
518/668-2121


--------------------------------------------------------------------------------
World Awareness Children's Museum
229 Glen St, Ste 3A
Glens Falls, NY 12801
Exhibits, hands-on activities, installations, artifacts, clothing, children's art from around the world and handcrafted goods.
518/793-2773


--------------------------------------------------------------------------------