At Whiteface Mountain, you'll find some of the best alpine skiing and snowboarding in North America. It has the greatest vertical drop this side of the Rockies and is the only ski area in the East to have hosted the Olympic Winter Games.
Facts
Base Elevation: 1,200 feet
Summit Elevation: 4,867 feet
Top Lift Elevation: 4,416 feet
Vertical Drop: 3,350 feet (Biggest in the East)
Skiable Acreage: 211 acres
Cloudsplitter Gondola: 7.5 minutes from the base to the top of Little Whiteface
Lifts: 10
Trails: 67
Snowmaking: 97% - does not include the slides
Terrain: One-third each of most difficult, more difficult, easiest
Half Pipe: 425 feet, International FIS Specs
Hours: 8:30 am to 4 pm daily
First opened: 1957
The Slides: 35 acres (open conditions permitting) Experts Only
Operated by: New York State Olympic Regional




Directions;
From New York City and New Jersey
Take the NY State Thruway (I-87) north to the Adirondack Northway (Exit 24 in Albany). Follow 87 to Exit 30. Pick up Route 9 north and follow it for two miles to Route 73. Continue on 73 for 28 miles to Lake Placid area. Take Route 86 east to Whiteface Mountain. From NYC: 5 hrs, Albany: 2 1/2 hrs.
From Toronto
Take 401 east to Cornwall Bridge. Pick up Route 37 east to Malone. Follow Route 30 south to Paul Smiths and pick up Route 86. Continue on 86 thru Saranac Lake and Lake Placid to Whiteface Mountain. Drive time: 5 1/2 hours.
From Montreal
Take Route 15 south to Champlain Crossing, connecting with I-87 south. Take Exit 34 west, following Route 9 north, then follow Route 86 to Whiteface Mountain. Drive time: 2 hours.
From Boston, Springfield, Hartford
Take Massachusetts Turnpike (I-90) to Albany. Pick up I-787 north to Cohoes. Connect with Route 7 west to I-87 north. Follow I-87 (Northway) to Exit 30, then use final directions above: "From New York City..." Drive time from Boston: 5 hours.
From Ottawa
Take routes south to the Cornwall Bridge. Pick up Route 37 east to Malone. Follow Route 30 south to Paul Smiths and pick up Route 86. Follow Route 86 and continue thru Saranac Lake and Lake Placid to Whiteface Mountain. Drive time: 3 hours.
From Buffalo, Rochester, Syracuse, Points West
Take I-90 (NY State Thruway) east to Exit 36 (Syracuse). Pick up I-81 north and follow to Watertown. Take Route 3 and follow it east to Saranac Lake, then follow Route 86 east to Whiteface Mountain. Drive times: From Buffalo: 5 1/2 hours; Rochester: 4 1/2 hours; Syracuse: 3 1/2 hours.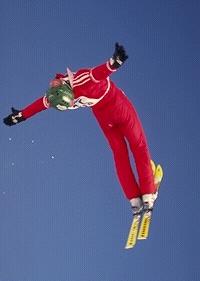 Freestyle Skiing
Gore Mountain
Facts
Schedule: Mid-November through Mid-April. 8:30 AM to 4:30 PM. Weekends until the end of April
Elevations: Base 1,500 feet; Summit 3,600 feet
Vertical Drop: 2,100 feet
Trails: 62
Longest Run: 2.9 miles
Snowfall: 150 inches per year
Skiable Acres: 292
Terrain: 10% beginner, 60% intermediate, 30% expert
Snowmaking: 95% coverage, water supply from the Hudson River
Lifts: 9 total- New 8 passenger Northwoods Gondola, 2 Quads, 1 Highspeed Triple (The Adirondack Express), 3 Doubles, 2 Surface lifts.
Services: Two Lodges: Main Base Lodge with dining, Ski & Snowboard School, mountain patrol, nursery, rental shop, accessory and clothing shop, lounge, administration, ticketing; Saddle Lodge at mid-mountain with food service.
Location: Route 28 and Peaceful Valley Road, North Creek, NY, 21 miles off I-87
Phone Number: Mountain Offices, (518) 251-2411; Snow report, (800) 342-1234
Internet: Website - http://www.goremountain.com; Email- info@goremtn.com
Key Personnel: General Manager: Michael J. Pratt
Assistant GM/Ski School Director: Joe Barclay
Director of Marketing & Sales: Jason L. Sherry
Directions;
TRAVELING FROM THE SOUTH
NYS Thruway to Exit 24. Take I-87 (the Northway) to Exit 23 (Warrensburg). Follow Route 9 for 4 miles to Route 28 and proceed 16 miles to Peaceful Valley Road.
TRAVELING FROM THE NORTH
Take I-87 (the Northway) to Exit 26 (Pottersville). Follow the Gore Mountain "Trailblazer" signs through Olmstedville then left on Route 28N to North Creek. Make a left turn onto Route 28 and then a right onto Peaceful Valley Road.
ALTERNATE ROUTE (FROM NORTH OR SOUTH)
Take I-87 (the Northway) to Exit 25 (Chestertown). Follow Route 8 west for 11 miles. Turn right in Wevertown on Route 28; proceed north to Peaceful Valley Road.
TRAVELING FROM THE WEST
Take I-90 (NYS Thruway) east to Utica. Take Route 8 North from Utica to North Creek. Make a left onto Peaceful Valley Road and continue 5 miles to Gore Mountain.
West Mountain - 59 West Mountain Road, Glens Falls, NY 12804. 3 miles west of Northway (I-87) exit 18. (518)793-6606. 1,010 foot vertical drop, 21 trails (beginner, intermediate and expert), 60% snowmaking. Lessons and equipment rental available. Child care and kid-ski programs available. Open daily, Monday through Friday 9:30AM-10:30PM, Saturday and Sunday 8:30AM-6PM. Closed Christmas Day. Tickets are sold for 4 and 8 hour blocks.


Lapland Lake X-C Ski & Vacation Center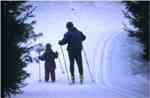 139 Lapland Lake Road, Northville, NY 12134; www.laplandlake.com. Information: 518-863-4974. Conditions: 800-453-SNOW.
E-mail: vacation@laplandlake.com "Best in the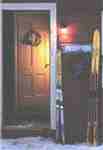 Mid-Atlantic" - Best XC Ski Resort Poll 2002 & 2003! Adirondack Splendor, Finnish Hospitality! Owned and operated 25 years by Olympian Olavi Hirvonen and his family. 50km trails: 38km snowcat groomed with trackset and skating lanes, 12km snowshoe trails. Courteous staff; comfortable warming lodge; rental equipment (skis, snowshoes, tubes, ice-skates, pulks, kicksleds); retail shop; cozy grill offering satisfying Finnish and American fare; overnight accommodations in immaculate tupas (private housekeeping cottages); authentic Finnish sauna. PSIA instruction, children's lessons, tubing, night skiing, wilderness touring, domesticated reindeer! (photos by Nancie Battaglia)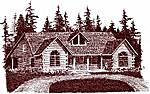 PACKBASKET ADVENTURES
P.O. Box 136 12 South Shore Rd. Ext. Wanakena, NY 13695 Ph/Fax: (315) 848-3488
email:info@packbasketadventures.com
The base for Packbasket Adventures is our lodge, located on the fabled Oswegatchie River, famous for its scenic beauty, remote wildness and fine sport. The river flows through Wanakena into Cranberry Lake, which has 40 of its 55 miles of shoreline State protected and waiting to be explored. Our newly constructed lodge consists of 4 bedrooms with private baths. Each room is finely appointed in the lodge style, making for a cozy return at the end of the day's adventure.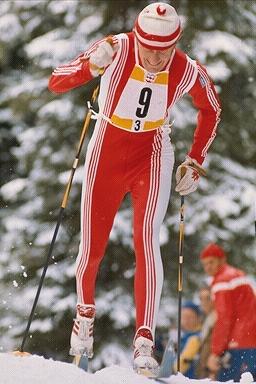 Garnet Hill Cross Country Ski Area:
Garnet Hill Lodge is a four season Adirondack Inn / Resort in the Adirondacks of New York- a summer vacation destination and a complete cross country skiing center in winter. Discover Garnet Hill's spectacular lake and mountain view, distinctive accommodations, superb cuisine and outdoor fun.
13th Lake Rd, North River, NY 12856
518-251-2444 Email: mail@garnet-hill.com