Adirondacks: Views of an American Wilderness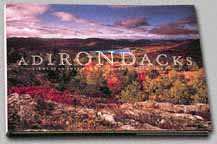 Paddle a canoe along a remote Adirondack shoreline... Enjoy the panoramic vista from a High Peaks summit... Marvel at the orchids growing on the mat of a primeval bog... Feel the sun's warmth as first light flows across the landscape... Explore the diversity of the trails in the Adirondack foothills... Revel in the simple beauty of the changing of the seasons...






The vast Adirondack Park contains the largest tracts of wilderness found anywhere in the eastern United States. This special region, with it's unique mix of both public and privately owned land, has been protected since 1885 by the
New York State Constitution.


In 'Adirondacks', author and photographer, Carl Heilman II, has captured a real sense of the Adirondack region with his spectacular imagery,
and evocative narrative. An eloquent introduction by best-selling
environmental author, Bill McKibben,
helps give a full perspective of the Park.



Each paperback book is signed and dated.