---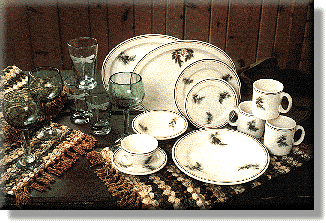 Pine Cone China, Glasses, Mats
Ordering online is safe and easy using our secure
shopping cart system.
Just click on the 'add to cart button' next to your selection.
---
Our own pine cone china was designed in 1915 for the Lake Placid Club and is the epitome of rustic elegance. The dinner plate and platter are available with the plain pine cone clusters or with the distinctive LPC logo. Please use our order form to specify which pattern you would like.
---
---

[ China ] [ Gifts & Acessories ] [ Glasswear ] [ Back to Homepage ]
[ Back To Adirondacks.Com - Resource Guide ]

---

The Adirondack Store - Adirondacks.com
43 Broadway, Saranac Lake, New York 12983
Phone: 518-891-3745 Fax: 518-891-3768
E-Mail: Adirondacks.com
Adirondacks.com is owned and operated by
adirondacks.com internet publishing group.
For advertising and editorial content, please contact Rob Grant;
adirondacks.com reserves the right to reject,
modify or cancel any advertising at its sole discretion.
© Adirondacks.com - all rights reserved